San Francisco Giants:Home Opening Ceremonies Send Chills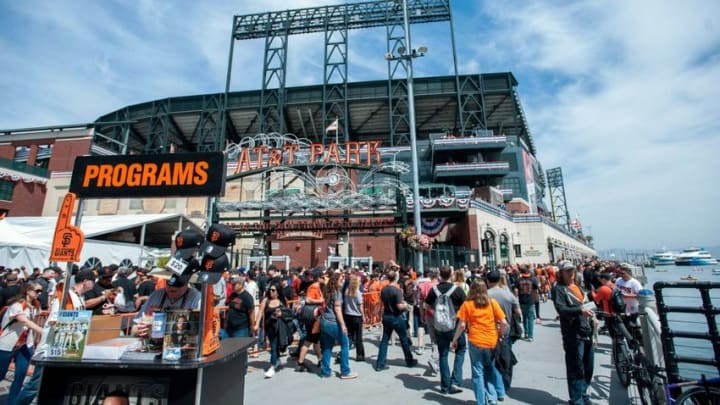 Apr 7, 2016; San Francisco, CA, USA; San Francisco Giants fans enter the park before the game against the Los Angeles Dodgers at AT&T Park. Mandatory Credit: Ed Szczepanski-USA TODAY Sports /
The San Francisco Giants organization will never be seen as one that goes halfway. The ability to bring fans and members of the team together, both old and new, is impeccable. Home openers are a great showcase with which to present your product. And with the Giants, that presentation is always on point.
Other teams try hard to duplicate, but it is impossible to really come close to the pageantry that the Giants can present, since the rich history brings so many more legends to the ballpark.
It isn't for lack of trying, but there aren't many teams out there that can run out the greatest baseball player to ever play the sport in Willie Mays. They also don't have some of the best players of their era in their front office. Legends like Willie McCovey, Orlando Cepeda, Will Clark and Felipe Alou all remain close to the organization. And some of the former players who made a lasting impact on the team like J.T. Snow, Jeffrey Leonard, Dave Dravecky, Joe Amalfitano, Dave Righetti, Mark Gardner, Shawon Dunston, Mike Krukow and Duane Kuiper all have maintained ties to the organization in some way.
More from SF Giants Prospects
This bond that the team has formed with former players leads to a desire by the new crop to be a part of what is going on in San Francisco. Players like Denard Span, Jeff Samardzija, and Johnny Cueto can't help but be proud to wear the same jersey as some of the former greats in the game. And when you can trot them out there at a moments notice, it gives a special meaning to being a Giant.
The great Jim Davenport recently passed away. His loss to the Giants family is not felt only by his immediate family, but his extended Giants family who so adored him in his life in the game of baseball. Not a lot of franchises can feel so close to those that leave this earth, since they don't have the storied history that exists here. Not that more teams won't get to that point, but there are few at this time. Even the great Joe Garagiola, who also recently passed, was a former catcher with the team, and like Davenport, were emotionally honored prior to the opener today. The third base bag had a #12 on it for Davenport. It just makes that number on the back of Joe Panik, that much more special knowing he had a hand in his development.
I admittedly didn't realize that Eddie Milner had passed until his name was shown on the board. I remember him in 1987, one of those memorable years for me. Tough one to hear about.
And finally there is Monte Irvin. A trailblazer who was a beautiful role model for his apprentice Willie Mays. And as the apprentice became the teacher, Willie always calls Irvin his greatest influence. Irvin's two daughters were on hand to throw out the first pitch to Sergio Romo, and Span. (Again, Span has to already understand the importance of this franchise. Gotta be a bit overwhelming.)
As Renel Brooks-Moon gets the party started, as she has beautifully done for all sixteen years of AT&T Park's existence, Jon Miller and the San Francisco Giants were presented to their faithful family. Doing things together does seem to make things more special. And watching the team play on television is similar to allowing a child to go "away" to college. Facetime and texting isn't enough, I want my boys home.
The crowd was treated to a beautiful day, with the team coming in from the center field wall accompanied by several youth baseball programs in the city of San Francisco. This is a great chance for the youth in the inner-city to experience a Major League diamond. Just one child feeling the magic within the park is worth it, since they are the ones who will be playing out there in the future.
The greatest thing that the Giants organization does is harness all of that history and present it in a way that is not overwhelming. It is done with grace and respect for the past, present, and future.
Overall, it was a quality start to the 2016 season. You never get a second chance to make a first impression, and those of you who were out here for the first time, yes that magic is in the air every game.