SF Giants hitting prospects week in review (8/21-8/27)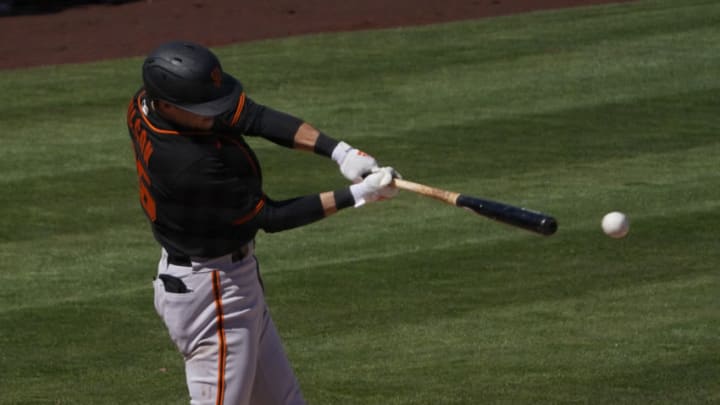 SF Giants infielder Will Wilson (85) hits a three run double against the Los Angeles Angels during a spring training game at Tempe Diablo Stadium. (Rick Scuteri-USA TODAY Sports) /
DENVER, COLORADO – JULY 11: Heliot Ramos #14 of the National League team watches from the dugout while playing the American League team during the MLB All-Star Futures Game at Coors Field on July 11, 2021. (Photo by Matthew Stockman/Getty Images) /
Make sure to revisit our weekly SF Giants prospect rundowns to keep up with each of their minor-league affiliates. If you do not feel well acclimated to the prospects throughout the farm system, you might want to revisit our prospect week articles that detailed the system from the top prospects to lower-level fringes. If you're just interested in the biggest names, then the preseason SF Giants top 31 prospects list is the one-stop-shop for you.
SF Giants Prospects Weekly Rundown: Triple-A
Notable Performers
Heliot Ramos: 4 G, 17 AB, .471 AVG, 1.206 OPS, 1 2B, 1 HR, 8 RBI, 1 BB, 2 K, 2 SB
Braden Bishop: 3 G, 6 AB, .333 AVG, 1.667 OPS, 2 HR, 3 RBI, 0 BB, 2 K
Jaylin Davis: 3 G, 9 AB, .111 AVG, .718 OPS, 1 3B, 2 RBI, 3 BB, 4 K
Joey Bart: 1 G, 4 AB, .500 AVG, 1.000 OPS, 0 HR, 0 RBI, 0 BB, 1 K

Powered with four consecutive two-hit games, Heliot Ramos has officially found his stride in Sacramento. Over the past two weeks, Ramos is flashing his diverse skillset with a .371 batting average, 1.017 OPS, a double, a triple, a couple of home runs, and three stolen bases. He has also only struck out just five times in 36 plate appearances and is seeing the ball very well. As a River Cat, he is batting .279 with a .786 OPS. Ramos is still a very good prospect and he is doing this while facing players who are at least five years older than him. Being in a hitter-friendly league helps, but it is tough to deny the fact that Ramos is doing this while being younger than 2021 second-round draft pick Matt Mikulski.
Braden Bishop has not seen much playing time recently and only had two hits this week but those two hits left the yard. Bishop might be having the best year of his professional career this season with a .313/.374/.519 triple-slash line across two organizations that is mostly fueled by his stellar performance in Sacramento. Bishop might not really see big league time this season but if he is on the 40-man roster next season, which is a big possibility, there's a chance that he will be a fixture in the Giants lineup.
Just like Bishop, Jaylin Davis has seen limited playing time this week due to the River Cats giving Steven Duggar and Mike Tauchman crucial playing time. Unlike Bishop, however, Davis has not taken full advantage of the playing that he received, drawing walks as the only big positive. Even though he is seemingly taking ground balls in the dirt last week, it looks like there is no intent from the Giants coaches to put Davis at first base.
Giants fans can now finally breathe a sigh of relief as Joey Bart  is now back in action after missing most of August with a quad strain. He looked like he did not miss a beat, however, with a 2-4 performance. The Giants' problem at catcher moving after this season is such a great problem to have as Buster Posey enjoyed a career renaissance that has allowed the front office to ease the gas on Bart and have him play the majority of this season in Triple-A.