SF Giants hitting prospects week in review (8/28-9/10)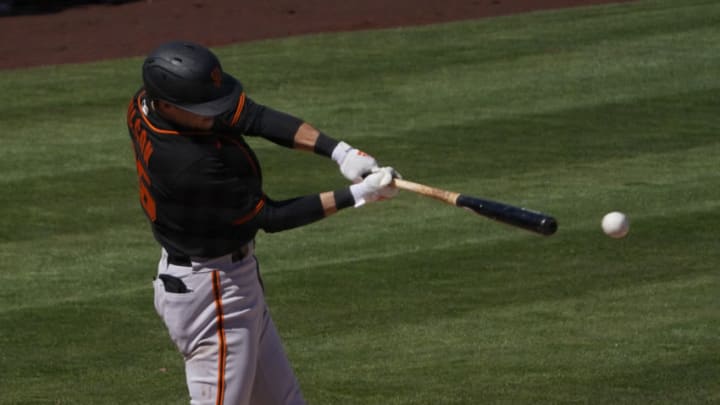 SF Giants infielder Will Wilson (85) hits a three run double against the Los Angeles Angels during a spring training game at Tempe Diablo Stadium. (Rick Scuteri-USA TODAY Sports) /
SF Giants catcher Joey Bart (21) catches a pitch during the fifth inning against the Seattle Mariners at Oracle Park. (Darren Yamashita-USA TODAY Sports) /
Make sure to revisit our weekly SF Giants prospect rundowns to keep up with each of their minor-league affiliates. If you are interested in the best that the Giants farm system has to offer, check fellow contributor Marc Delucchi's updated top 31 prospect rankings. You can also check out my own updated top 30 rankings over on my Patreon if you want to compare our rankings.
Since I took a week off, I will cover the past two weeks of action in this week's rundown.
SF Giants Prospects Weekly Rundown: Triple-A
Notable Performers
Will Toffey: 5 G, 13 AB, .538 AVG, 1.416 OPS, 1 HR, 2 RBI, 4 BB, 4 K
Heliot Ramos: 11 G, 47 AB, .191 AVG, .522 OPS, 2 2B, 1 HR, 4 RBI, 2 BB, 13 K, 1 SB
Joey Bart: 8 G, 31 AB, .129 AVG, .281 OPS, 0 HR, 2 RBI, 1 BB, 12 K
Wyatt Mathisen: 9 G, 31 AB, .290 AVG, .986 OPS, 3 2B, 2 HR, 2 RBI, 4 BB, 9 K
Will Toffey has a modest six-game hitting streak with eight hits in his past 21 plate appearances with four walks, four strikeouts, and a home run. Toffey has received little attention ever since he was acquired from the Mets in July but when Toffey gets to play on the field, typically every two days, he performs. In his 23 games as a River Cat, Toffey has a .339 batting average with a .936 OPS, a double, and two home runs. His numbers are bound to regress because of his .607 BABIP, but if ever the Giants decide to keep Toffey for next season, there is a chance that Toffey could be in the infield mix as a platoon option due to his lefty bat and ability to play both second and third base.
It felt like we have seen both the good and the bad with Heliot Ramos with his play in Sacramento this season. Ramos had a 13-game stretch from the middle of August to early September where he hit .328 with a .902 OPS, two doubles, a triple, three home runs, and four stolen bases. However, Heliot also has struggled over his last six games, with three hits in his last 25 plate appearances with nine strikeouts. Ramos has always been a streaky hitter this season with his big ebbs and flows when he was in Richmond and also in Sacramento, albeit in shorter spans. I expect Heliot to be more consistent once he repeats this level next season as a 22-year old.
Joey Bart has struggled to get the bat going once again after he missed a good chunk of August because of a quad strain. Bart has only posted six hits in his last 37 plate appearances with no extra-base hits and 13 strikeouts. It might be a good time to shut Bart down because he's had a banged-up season that was riddled with injuries but I can also see the Giants pushing Bart to play in the Arizona Fall League to make up for the lost time. Bart has played just 59 games for the River Cats this season and was solid with a .294 average and has hit double-digit doubles and home runs.
Wyatt Mathisen has had an adventurous 2021. He was a Diamondback entering the 2021 season and played 23 games for the big league squad. However, he was designated for assignment after a month and was traded to the Rays for cash. After playing a month for the Rays Triple-A team, he was traded to the Mariners once again for cash. After struggling mightily in the Mariners' Triple-A team for two months, the Mariners cut Mathisen and he was signed by the Giants three days after and was assigned to Sacramento looking for a fresh start. After hitting a combined .177 batting average with .613 OPS for the three teams that he played for, he is faring much better as a River Cat. He provides positional versatility having played second base, third base, and right field in his professional career.