SF Giants hitting prospects week in review (8/28-9/10)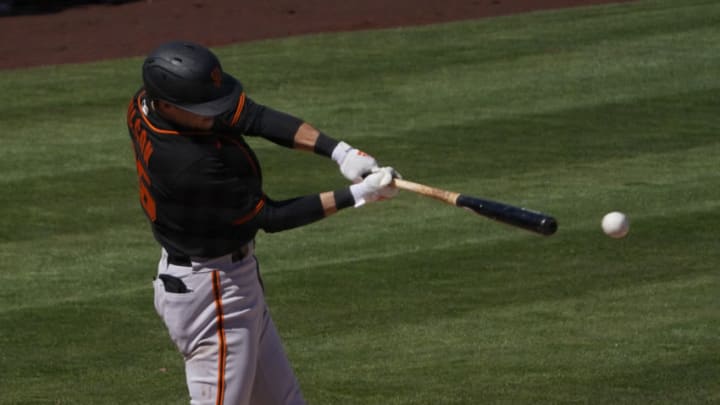 SF Giants infielder Will Wilson (85) hits a three run double against the Los Angeles Angels during a spring training game at Tempe Diablo Stadium. (Rick Scuteri-USA TODAY Sports) /
Jun 1, 2021; St. Lucie, Florida, USA; Venezuela right fielder Diego Rincones (30) celebrates with teammates at home plate after connecting for a home run in the tenth inning to win the game against Colombia during the WBSC Baseball Americas Qualifier series at Clover Park. Rincones is an outfielder in the SF Giants organization. (Sam Navarro-USA TODAY Sports) /
SF Giants Prospects Weekly Rundown: Double-A
Notable Performers
David Villar: 6 G, 22 AB, .364 AVG, 1.234 OPS, 3 2B, 2 HR, 9 RBI, 3 BB, 7 K, 1 SB
Will Wilson: 6 G, 21 AB, .333 AVG, 1.131 OPS, 2 2B, 2 HR, 8 RBI, 3 BB, 7 K, 1 SB
Diego Rincones: 6 G, 19 AB, .368 AVG, .979 OPS, 1 2B, 1 HR, 1 RBI, 1 BB, 2 K, 1 SB
Jacob Heyward: 3 G, 7 AB, .571 AVG, 2.321 OPS, 1 2B, 2 HR, 6 RBI, 5 BB, 2 K

There have been a lot of breakout prospects in the Giants farm system this season. David Villar is the first prospect that you might have never heard of. With 19 home runs this season, Villar has broken the single-season record in Flying Squirrels history. What was amazing is that as the season rolls on, Villar's batting average and strikeout rate kept getting better. Villar's August was the best in his professional career with a .341 batting average, 1.151 OPS, nine doubles, seven homers, and a 17:13 strikeout-to-walk ratio in 97 plate appearances. The 2018 11th round pick has big-league potential with his ability to hit for power and solid defense at third base.
Even though the Flying Squirrels did not play for a week due to COVID issues, Will Wilson has kept his hot streak slightly going, batting .267 with two doubles in his last four games. Over the past 14 games, Wilson has a .347 batting average with a 1.051 OPS, four doubles, three home runs, and just a 22.8% strikeout rate. The strikeouts crept back up over his last four games with seven in his last 18 plate appearances, but it looks like Wilson is back. Hopefully, the start of September was not an indication that Wilson is reverting back to his strikeout-happy ways earlier.
The week off did not stop Diego Rincones' bat as he has a base hit in his last four games back with a hit in seven out of his last 18 plate appearances with a double and a home run. Rincones has been incredible since the start of August with a .352 batting average, .983 OPS, seven doubles, six home runs, and just a 13.4% strikeout rate. I have recently seen his ability to take a high fastball out of the park, a pitch I thought that he would struggle with at the next level. Even though he might be limited to being a DH, he has a shot to play in the big leagues once the DH is implemented in the National League.
Jacob Heyward has a definite shot to pass former Giants prospect Ricky Oropesa for the most career walks in Flying Squirrels franchise history after Heyward worked his 113th base on balls in last night's game. Heyward has a slim chance of making the Majors being a 26-year old who struggled to perform in his second stint in Richmond with a .196 batting average and a 30% strikeout rate though he has hit 11 home runs this season. However, we have seen plenty of players reaching the big leagues in their late-20s and there's still a shot that he makes the show.