Analyzing San Francisco Giants Outfield Requires Look at Oracle Park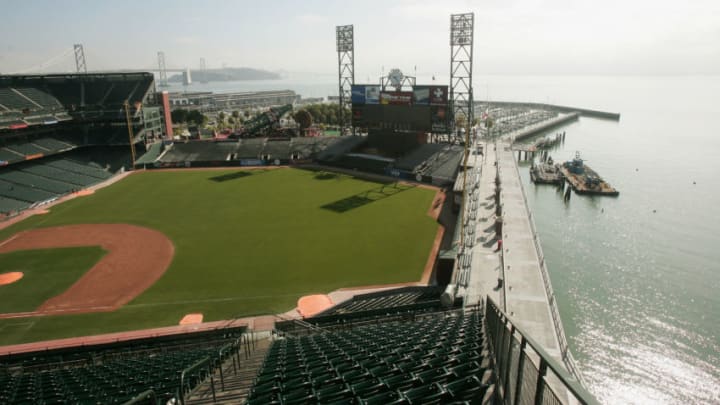 SAN FRANCISCO - JUNE 21: A general view of the field and McCovey Cove at SBC Park, home of the San Francisco Giants before the MLB game against the Los Angeles Dodgers on June 21, 2004 in San Francisco, California. (Photo by Jed Jacobsohn/Getty Images) /
With all of the attention being given to the San Francisco Giants outfield situation I thought it might be a good idea to take a look at the Oracle Park outfield itself.
Most outfields are somewhat symmetrical in nature.  For example, Dodger's Stadium is 330 feet down both lines, 375 feet to each ally, and 395 feet to center. Petco Park and the Oakland Coliseum, while not perfectly symmetrical, are still very close to it both in shape and dimensions. However, home of the San Francisco Giants, Oracle Park, is quite different as it measures 339 feet down the left field line, 309 feet down the right field line, 382 feet to left center, and a massive 421 feet to right center field.  And here lies the main distinction.
In many ways Oracle Park is like the venerable Fenway Park in Boston with its 420 foot right center field dimension.  Yet in a way right field at Oracle Park is actually harder to play than right field at Fenway as it has a 24 foot brick wall with archways, meaning that balls hit off the wall do not move in a predictable manner.
The point of this all being that when discussing the Giants outfield situation the ballpark they play in must be taken into consideration.  And while left field at Oracle Park is very much like any other, center and right field are most certainly not.
The Red Sox play Mookie Betts, who came up as a centerfielder and has played 175 games there, in right field.  Thus, along with their regular center fielder Jackie Bradly Jr., they essentially play center fielders in center and right field.
More from Around the Foghorn
The Giants outfield needs are quite similar to the Red Sox in that they essentially need two center fielders.  They do have Steven Duggar but not really any other true center fielder after that.
Among the remaining Giants outfielders Austin Slater is best qualified to play right field yet he is perhaps more valuable in a backup role both around the outfield and the infield.  Mac Williamson has played right field in the past yet is not well suited to do so at Oracle Park and Chris Shaw is quite similar.
So the Giants have Williamson and Shaw, along with Brandon Belt and Alen Hansen from the infield, who can play in left field (Plus every other outfielder on the roster as left field is the easiest position to play).   Therefore, it simply makes no sense for the Giants to acquire someone who can only play in left field.
What the Giants need, and need very badly, is someone capable of playing center field to pair with Steven Duggar in order to cover both center and right field at Oracle Park.  Most of the free agent outfielders still available are older players looking for a bounce back year who can only play left.  So I see no answers there.
However, Farhan Zaidi is still holding the twin Aces of left handed relievers Will Smith and Tony Watson.  And I am hoping he will play them on a trade for a young outfielder who can play center field.