San Francisco Giants 2016/2017 Offseason Primer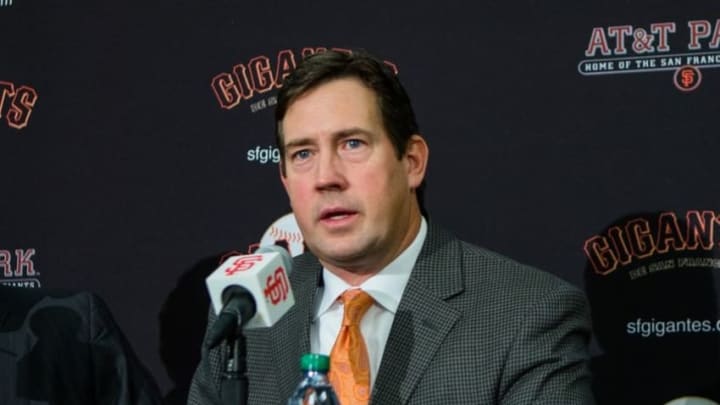 Dec 17, 2015; San Francisco, CA, USA; San Francisco Giants senior vice president and general manager Bobby Evans announces the signing of pitcher Johnny Cueto at a press conference at AT&T Park. Mandatory Credit: John Hefti-USA TODAY Sports /
While the players get a break, literally nobody else does. In reality it's quite fair. They exerted much more physical effort over this season than those of us who don't get an offseason. Our conversations now shift from reviewing the 2016 season, to the offseason.
That's a wrap folks! The 2016 Season is in the books. It was a season for the ages. While the San Francisco Giants didn't win it this year, it was quite a year to remember as the Chicago Cubs finally broke their World Series drought of 108 years. With today being the final day of the 2016 season, we now enter the offseason.
Yes, awards season is here for the next week or so, but really, the offseason is here. Teams now have seven days to re-sign players whose contracts expire this season. For the Giants, that would be: Javy Lopez, Sergio Romo, Santiago Casilla, Gregor Blanco, Angel Pagan, and Jake Peavy. This seven day period is when they are allowed to only talk to the Giants. After that seven day period, they are free to talk to any other club, if an agreement hasn't been reached.
We're going to take a look at the free agents potentially on their way out of the club, and whether or not they re-sign them. We'll also take a look at what the needs are for the Giants, and which free agents you should keep an eye on. Let's dive in!
Giants On Their Way Out
According to Alex Pavlovic of CSN Bay Area, the Giants most likely won't retain anybody, with a small possibility towards Blanco. Even then, I don't think the Giants re-sign anybody. Those three bullpen pieces are slowly declining and most likely would demand a salary well above their current worth. Earlier, we took a look back at the contributions of the core four. Their legacy is big, but sadly it's time to move on. Getting Peavy out of the picture for the fifth starter actually helps, although he probably would've been a better asset than Josh Johnson will be.
Areas of Need
According to multiple interviews with Bobby Evans, and the letter that Larry Baer sent to fans at the conclusion of the 2016 season, we can confirm the two target areas will be: Left Field, and Closer. A power hitting left-fielder is also something that Evans isn't really looking at. In an interview with media following the close of the Giants' season, Evans said that they believe that Willamson and Parker are likely the answer in left. Frankly, they only truly NEED a closer. Outside of Cespedes, there really isn't a good option from outside of the organization to fill the left field hole. A closer? That doesn't seem to be within the organization at the moment.
Derek Law has the stuff to be a closer, but I just don't think he's quite ready to jump into the role quite yet. With the options available this offseason in the closer role, it would be better to grab one of them on a two or three year contract and use Law as a fill-in closer if necessary. Law was easily the most reliable arm in the bullpen this season, and he should do the same in 2017.
Who To Keep An Eye On
More from Around the Foghorn
There are a lot of teams that need the closers that are available this offseason. They are: Aroldis Chapman, Mark Melancon, and Kenley Jansen. All of them would be great options to close. If the Giants land any of those three, they should be quite happy. However, there are going to be multiple teams in the running. Their former teams, Washington Nationals, Chicago Cubs and Los Angeles Dodgers, all will look to re-sign their players, as they obviously don't have someone to step into that roll right away. Outside of that, the only teams who probably don't need a closer is the Baltimore Orioles and the Cleveland Indians. Any team would love to have that type of pitcher in their bullpen. What about in left-field?
Yoenis Cespedes would be a marvelous addition to left field at AT&T. However, they're clearly going to give Parker and Williamson their respective shots in left field. Keep an eye on him though. If the Giants somehow find a good price and year combo with him, you just might see him in Orange and Black next year. However, don't count on it. The money would be better spent on getting a Closer.
Offseason Schedule
Nov 6th: Finalists Announced for BBWAA Awards
Nov 7th: Gold Golve Winners Announced
Nov 8th: Silver Slugger Winners Announced
Nov 9th: Player's Choice Awards
Nov 14th: Rookie of the Year Winners Announced Announced
Nov 15th: Manager of the Year Winners Announced
Nov 16th: CY Young Winners Announced
Nov 17th: MVP Winners Announced
Dec 5th-8th: Winter Meetings: Washington D.C.
Next: Crawford and Panik Deserve the Gold Glove
We will update the Offseason Calendar with Dates as they continue to become available.