SF Giants prospects position preview chat: Corner Infield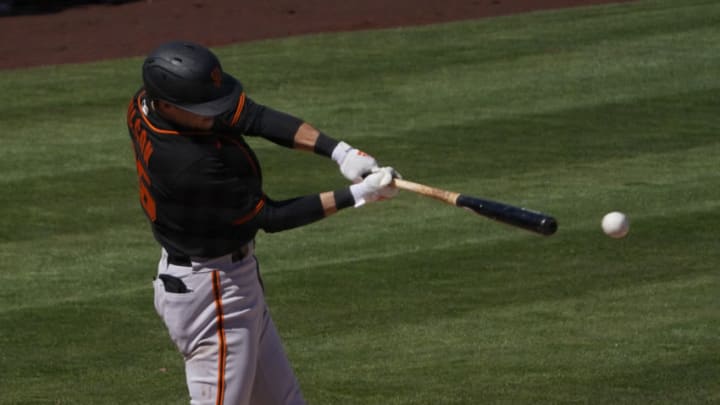 SF Giants infielder Will Wilson (85) hits a three run double against the Los Angeles Angels during a spring training game at Tempe Diablo Stadium. (Rick Scuteri-USA TODAY Sports) /
Former SF Giants infielder Abiatel Avelino slides under the tag of SF Giants prospect Luis Toribio during an intrasquad game at Oracle Park on July 15, 2020 in San Francisco, California. (Photo by Ezra Shaw/Getty Images) /
Around the Foghorn contributor, Wrenzie Regodon and co-site expert Marc Delucchi are beginning the season with some discussions about the SF Giants minor-league depth at each position. They discussed the organization's catching depth last week and now are looking at the team's corner infield prospects.

SF Giants prospects position preview chat: Third Base
Marc Delucchi: Alright, so getting into the infield forces us to have some conversations about who you classify as a corner infielder vs a middle infielder. Jimmy Glowenke and Will Wilson are two guys that come to mind who were drafted as shortstops but profile elsewhere. Do you think either of them has a future at the hot corner (third base), or are they going to stick up the middle?
Wrenzie Regodon: With Glowenke, I think he will stay up the middle, most likely playing second base as a pro. I say Glowenke is more of a second baseman because he does not have the range to play shortstop long-term, but also does not have the arm to play at the hot corner. With Wilson however, we have seen him getting reps everywhere in the infield in Spring Training and in the Instructs. I think Wilson has the chops to play third base at a solid level.
MD: Agreed. Glowenke's arm was definitely fringe in college. If we group Wilson into this bunch, how do you rank the trio of potential long-term third baseman: Casey Schmitt, Luis Toribio, and Wilson? All three have respectable prospect pedigrees, but none rank as elite prospects either.
WR: Honestly, it is a toss-up between the three in my opinion. Toribio has the loudest bat, Schmitt has the slickest defense by a good margin, while Wilson is somewhere in the middle. I am going to be honest here, I do not see Toribio sticking at third base because he has major issues defending the position, that is why the coaches had him play second base at Insructs.
Schmitt, in my opinion, can be the Evan Longoria replacement at the hot corner. He has more than enough arm strength, the soft glove, and the instincts to not worry about who is going to man the hot corner in the foreseeable future. I can see Wilson playing the position but I see him as more of a plug-and-play type defender in the infield where he is comfortable moving between third, second, and short.
Ranking the three, Wilson, Toribio, and Schmitt might be the ranking for now but I can definitely see Schmitt on top of the trio by the end of the year.
M: Yeah they are all really close together. I'm most bullish on Toribio because of his great approach, I know he has the arm strength to handle third, and I think he can ultimately improve his glove enough to be a 45-grade defender.
There's definitely a case for all three being the future starter though. Which one do you think is the first to reach the big leagues? Toribio is the youngest but also gets rave reviews for his plate approach and makeup. Schmitt is the most refined defensively, but probably the least-developed bat. Wilson seems like the obvious answer, especially since he saw so much time at spring training, but I'm curious if you lean in a different direction.
W: I lean towards Wilson as well. When I looked at Wilson's progress throughout Spring Training, I thought that he had a chance to be in the big leagues sometime this year because of how refined he looked. It is not exciting but he played like he belonged. I would not be surprised if they throw Wilson to Eugene or even at Richmond if they are aggressive (although I doubt it).
With Toribio, I think that no matter where he plays, his bat is just going to carry him through the minors. His intangibles are also excellent, but I am obviously on the low side of his defense. I just see time and time again that he struggles to set his feet and have a balanced platform while throwing. Most of his errors come from inaccurate throws. I mean it's fixable but with potentially how quick his bat can move him up the ladder, he might not have time to refine it in time before the organization has to find a place for him to play.
About Schmitt, I think that his bat has potential as well now that he is focusing on hitting full-time. His peripherals in college were strong, it's just that he struggled to reach his power potential in games. I think Schmitt's going to break out this year.
M: So let's do the over/under for future everyday starters again. For third base, I'll set it at 2.5, what do you think?
W: I'll probably head towards the under on that one. Schmitt and Wilson are the two main guys that I see locking down the position. Other than them, I kind of struggle to think there are going to other mainstays at the position. If you want to count Luciano, sure, but he is a shortstop at the moment and the player development team will do everything they can to have him stay there.
M: Lol, we have to disagree at some point. I pretty much completely agree. I think all three of Schmitt, Wilson, and Toribio have a good shot to be everyday players, but all three have substantial bench/platoon bat traits as well.
W: I mean we can't be just shaking hands all the time lol.
M: Haha exactly.
Anyone else you think could factor into that position down the line? Diego Velasquez, recent IFA signing, seems like one who could be in this conversation in a year, but outside of him, that seems like it.
W: We have yet to see Velasquez because he just got signed. I tried all the avenues when I made my Primer, but Velasquez's defense is something that I am still unsure about. I guess we'll know about it when they play in the DSL.
I think one guy that can be a potential third baseman down the line is Anthony Rodriguez, one of the top signees in the 2019 IFA cycle. He plays shortstop now, but on the videos that I have seen of him, he looks like a candidate to move to the hot corner because there are other prospects in his class that have better athleticism, range, and instincts to play there, like Aeverson Arteaga. Still too early to say, though but something to keep tabs on.