SF Giants: Mauricio Dubon may have found a home in center field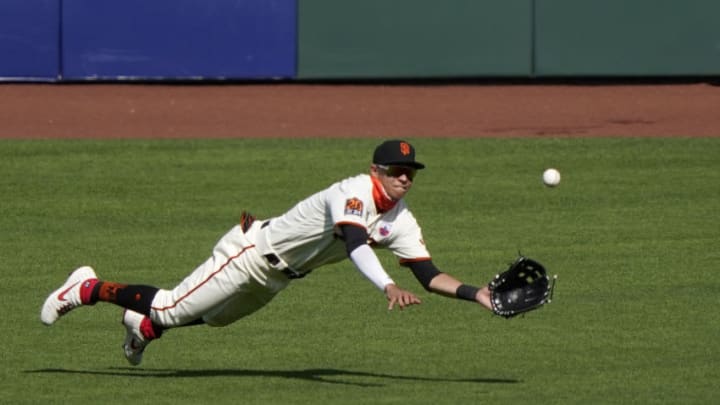 Mauricio Dubón #1 of the SF Giants makes a diving catch taking a hit away from Vimael Machin #39 of the Oakland Athletics in the top of the ninth inning at Oracle Park on August 16, 2020 in San Francisco, California. The Athletics won the game 15-3. (Photo by Thearon W. Henderson/Getty Images) /
SAN FRANCISCO, CALIFORNIA – AUGUST 16: Mauricio Dubon #1 of the SF Giants makes a diving catch taking a hit away from Vimael Machin #39 of the Oakland Athletics in the top of the ninth inning at Oracle Park on August 16, 2020 in San Francisco, California. The Athletics won the game 15-3. (Photo by Thearon W. Henderson/Getty Images) /
The SF Giants came into 2020 with the center field position very much up in the air. So far, Mauricio Dubon has seemed to thrive at the position, even though he has been a middle infielder for much of his career.
To begin the year, Mike Yastrzemski was the everyday center fielder for the SF Giants. He was the only outfielder we could reasonably assume would be starting every day for the team, and with Steven Duggar originally left off of the roster, Yaz was really the only guy who could be trusted.
But even since the offseason, there was speculation that Mauricio Dubon, a shortstop and second baseman by trade, could emerge as a center field option.
The team experimented with the idea a bit in Spring Training, but to start the year he spent most of his time in the infield.
Now, circumstances have necessitated that he spend most of his time in center which could quickly be turning into home for the 26-year-old.
With how well Wilmer Flores and Donovan Solano have hit this season, both of their bats have had to stay in the lineup, usually with one as DH and the other at second base or sometimes with Flores at first.
On top of that, Brandon Belt has been tearing it up recently and Brandon Crawford coming around as well, not to mention third baseman Evan Longoria heating up, the infield is pretty much full.
There was a brief period where it seemed like Dubon was going to be relegated to bench duties. He did not play for three straight games in late August, but with Steven Duggar's struggles at the plate, Gabe Kapler decided to give Dubon another shot in Arizona.
Ever since then he has been raking, raising his batting line up to .294/.342/.394 with 2 home runs and 13 RBI. Not only has he been hitting well, but he has looked better and better holding down the center field position:
Last night, he robbed Fernando Tatis Jr. of extra bases with a great running catch in the right-center field gap. It was so good that Tatis Jr. gave him some stink eye as he walked back to the dugout.
While Yastrzemski was serviceable in center, he lacks the speed and arm strength of Dubon and is probably better suited for a corner outfield spot.
As surprising as it may be given Dubon's relative lack of outfield experience, he is growing into the position before our very eyes.
If he keeps hitting and tracking down the ball like he did last night, the SF Giants may just have their starting center fielder at least for the next few years.