Grading the SF Giants at the Trade Deadline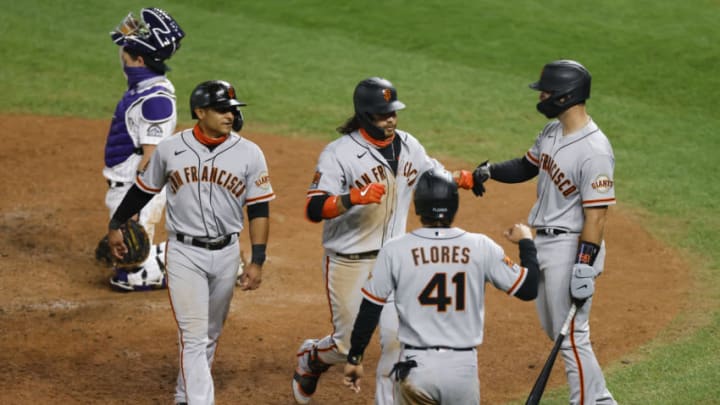 While it was partially a side-effect of the expanded playoffs, the SF Giants were competitive far deeper into the season than anyone expected. (Photo by Justin Edmonds/Getty Images) /
DENVER, CO – SEPTEMBER 01: Brandon Crawford #35 of the SF Giants (C) is congratulated by Donovan Solano #7 (2L), Wilmer Flores #41 and Joey Bart #21 as catcher Tony Wolters #14 of the Colorado Rockies kneels behind the plate during the sixth inning at Coors Field on September 1, 2020 in Denver, Colorado. (Photo by Justin Edmonds/Getty Images) /
SF Giants fans may have been hoping for big moves at the MLB Trade Deadline, but was the team's inactivity just as meaningful?
After the August 31 trade deadline passed, the SF Giants had made a total of two moves on the day: they acquired LHP Anthony Banda and placed Joey Rickard on the 60-day injured list.
That's it.
Whereas many fans of the Orange and Black were hoping for big moves to solidify their place in the playoff hunt, the Giants' front office opted to not make any major changes to their roster.
The lack of activity does not point to a weakness in the organization, but rather their ability to be ahead of the curve and be proactive well before the deadline.
On August 2, the Giants made their first mid-season deal when they acquired RHP Jordan Humphreys from the New York Mets for speedy veteran outfielder Billy Hamilton.
The 24-year-old hurler is an intriguing arm who has posted some robust numbers despite a slow ascent through the minor league ranks. For Example, during the 2019 Arizona Fall League, he posted an 0.77 ERA in 11.2 innings with the Scottsdale Scorpions.
Being on the 40-man roster this summer without any minor league season suggests that Humphreys will at least get a look-see during this summer.
And then there was the acquisition of former first-round pick Daniel Robertson on August 23. He, like Banda, was acquired for essentially nothing: cash considerations. Robertson just made his San Francisco Giants debut against the Rockies on Tuesday where he finished 1-for-2 while holding down the hot corner.
Getting Banda — a former top prospect before tearing his UCL and needing Tommy John surgery — at the trade deadline for just cash considerations was the icing on the cake.
So seeing what the San Francisco Giants have earlier in the month and what they accomplished at the deadline, how do I grade their performance at the trade deadline?
SF Giants overall trade deadline grade: B+
As noted before, the Giants' front office got their work done well before August 31. And what they have accomplished with their roster is proof that they have faith in the roster and coaching staff.
The team is good enough now, and it is unlikely there were any trades available at the right price that would have helped San Francisco in 2020 and beyond.
Though the Giants did not make unnecessary additions, it is interesting that they felt no need to deal some of their expiring contracts such as Kevin Gausman and Drew Smyly. There is also Austin Slater, who as a young first baseman and outfielder with power, could have helped some teams.
There could have been some value in the market for any of the players mentioned. But outside of a rumor that the New York Yankees were asking about Gausman, there seems to have been no real interest in anyone.
Some names did move who fans had their eyes on. Would it have been nice to get a Mike Clevinger, Starling Marte, or Archie Bradley-type talent? Yes, of course.
Would the cost in what the SF Giants have given up have been worth it this season and moving forward? Not if you care for this team in 2021 and beyond.
And the likelihood that Gausman, Smyly, or others would have been enough to land those names is low. The packages the Giants would need to build to land names like that would have decimated what Farhan Zaidi's front office has built in his short tenure.
The SF Giants are aiming for a dynasty. The current foundation, as the team has demonstrated recently, is strong.
Major moves at the deadline could have rocked that foundation, but San Francisco punched their timecard earlier in the month and got their work done, leaving them with a team bonded together in early September that is two weeks away from making an appearance in the MLB Postseason.