San Francisco Giants Riding the Pine: Austin Slater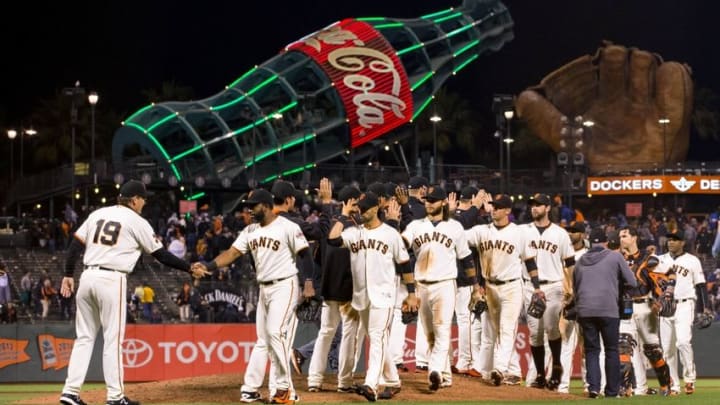 Aug 18, 2016; San Francisco, CA, USA; San Francisco Giants celebrate after defeating the New York Mets at AT&T Park. The Giants won 10-7. Mandatory Credit: John Hefti-USA TODAY Sports /
 For all the talk of whether the San Francisco Giants will start Mac Williamson or Jarrett Parker, another homegrown outfielder in Austin Slater has quietly begun to creep into the conversation. He has yet to reach the majors, but after jumping from San Jose to Sacramento in two impressive seasons, Slater may continue to draw intrigue down in Scottsdale.
Before beginning his professional career with the San Francisco Giants, the Los Angeles Dodgers drafted Austin Slater in the 44th round of the 2011 MLB Draft, the same draft in which San Francisco selected Derek Law, Joe Panik, and Kelby Tomlinson.
After leading The Bolles School in Jacksonville, Florida to three straight state championships as team captain, Prospect Wire named Slater the best prospect in the state heading into his senior year. Slater expected to declare for the draft after his senior season, but after breaking his ankle during a game of frisbee with friends, his stock dramatically plummeted. The injury not only forced Slater to miss the year, but affected him mentally going forward as well. Looking to regain his notoriety as a top prospect, Slater committed to Stanford University.
Want your voice heard? Join the Around The Foghorn team!
As a freshman, Slater rarely saw playing time, going hitless in only four at-bats, but took over as the team's starting right fielder in 2013 during his sophomore season. The Florida-native responded well to the uptick in playing time, slashing .269/.361/.411 with three home runs. Slater broke out in his junior season, leading the Stanford Cardinal to a 35-26 record with a .341 average and totaling the second-most total bases on the team.
Slater achieved his goal of re-invigorating interest among major league teams by batting .310 with five home runs over 113 career games at Stanford. The gamble paid off, and in the eighth round of the 2014 First-Year Player Draft, the San Francisco Giants selected Slater as the 238th overall pick.
More from Around the Foghorn
Since signing his first pro contract, Slater has consistently found success swinging the bat. In 29 games with the Salem-Keizer Volcanoes following the draft, Slater posted a slash line of .347/.417/.449 over 132 plate appearances. The San Francisco Giants promoted Slater to the San Jose Giants before the 2015 season, and after earning an All-Star selection in Silicon Valley, he once again earned a call-up midway through the season, joining the Richmond Flying Squirrels.
With San Jose and Richmond, Slater bat a combined .294 in 483 plate appearances. Slater began 2016 with Richmond, but San Francisco bumped him up once again to the Sacramento River Cats after he enjoyed success with the bat.
In just three seasons of minor-league ball, Slater has slashed .305/.369/.439 with 23 home runs and 139 RBIs all while rapidly progressing through San Francisco's farm system. Slater's rank as a prospect remains low, but a jump in his organizational position should increase before 2017.
Currently, Slater is a bit of a "tweener" because he does not have a primary position. With Stanford and the various teams in San Francisco's farm system, Slater has spent time in the infield and outfield, primarily at second base and center field in both respective areas of the diamond. The corner outfield positions suit him more than center due to his combination of athleticism, namely speed, solid instincts, and an above-average arm.
In the batter's box, Slater is contact-oriented and consistently induces solid contact with gap-to-gap power. Slater swings at the first pitch frequently, and this aggressiveness forces him into pitcher's counts. He limits his in-game power due to a very quick swing which relies heavily on the upper half of his body. His front foot barely gets off the ground, and his stride is very short,  barely moving a couple of inches. Slater has no difficulty hitting the ball to all fields as well. Baseball Prospectus projects a future Hit and Power grade of 40, with a Glove of 50.
Many scouts project that Slater's most realistic role going forward is that of a fourth outfielder, which may be the case if either Parker or Williamson meets or exceeds expectations. At 24-years-of-age, Slater needs to see consistent playing time to continue progressing. While a spot on the bench to begin 2017 appears nice, it will do him no favors if other options are taking at-bats.
Slater's future relies on Parker and Williamson's performance in the upcoming season. Should both options underperform, Slater is in the perfect position to take their place in left field or earn a promotion to the team at minimum. While Slater's future remains foggy for the time being, his performance in spring training, for better or worse, will shed light on where he stands.