San Francisco Giants: Bumgarner Extension Matter of When, Not If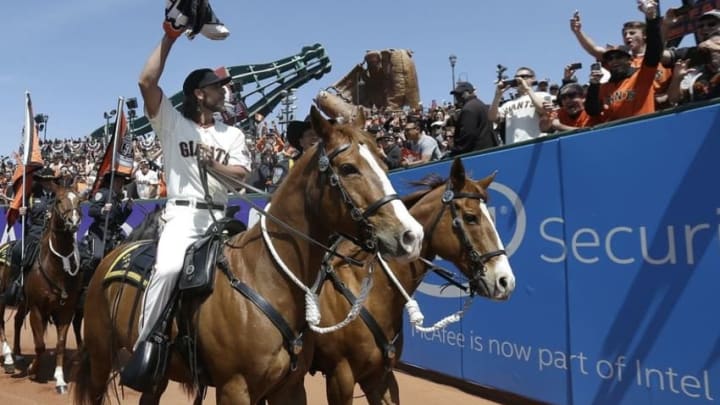 If Madison Bumgarner can ride a horse without getting hurt, he can swing for the fences without worrying about injury, right? (Jeff Chiu-Pool Photo via USA TODAY Sports) /
Although Madison Bumgarner may be signed through the 2018 season, both sides have remained open to an extension that will make him a fixture on the San Francisco Giants for a very long time.
In business, if you're breaking record numbers in sales for a company let alone industry, usually a raise in salary is fair compensation. Granted, you're working for a company that values its employees. This is relevant in sports too as athletes under current salaries have received raises for outstanding production and achievements. Now it's Madison Bumgarner's turn, and the San Francisco Giants turn to pay up.
No one in sports is arguably more under paid than Madison Bumgarner, but it's not from lack of appreciation. Give credit to the San Francisco Giants' GM of the time, Brian Sabean, for inking the southpaw in 2012 to a five-year deal worth $35 million, with two additional club options for $12 million each.
This was a very team-friendly deal that provided Bumgarner financial security, and gave the San Francisco Giants payroll flexibility with a promising young arm locked up. Bumgarner has lived up to the contract and surpassed expectations on an all-time level. Bumgarner deserves a contract that attempts to live up to him now. The only question is when might his contract extension happen?
Bobby Evans, the San Francisco Giants' current GM, weighed in on the possibility of extending Bumgarner. Although both sides remained extremely open, neither is pushing the subject strongly.
More from SF Giants News
"At the right time, we'll address it with him," Evans said to CSN Bay Area's Alex Pavlovic. "We're open to timing that feels right for both sides. Were in free agency right now and looking at trade options, and we're focused on next year's club. It's probably hard to see us wrapping our head around (an extension) right now."
This thought process makes sense because the San Francisco Giants just signed free-agent closer Mark Melancon to a four-year deal for $62 million. The deal puts the Giants over the luxury-tax threshold as well.
Expect the Giants to be very quiet and swift in their approach to an extension. San Francisco usually is, and they employed the same idea with Brandon Belt's extension, which seemingly came out of nowhere. Another thing to expect is for the deal to come toward the beginning of the season.
Bumgarner's last extension came on April 16th, 2012 and the news was broken without much notice either. Expect any extension being made to occur in April or later. There's a very strong possibility nothing happens until next season, but let's take a look at why something will be done before he is allowed to hit free agency.
Bumgarner, 27, dominated 2016 on his way to posting career numbers in a few categories. He went 15-9, with a 2.74 ERA, racking up 251 strikeouts, and a solid 1.02 WHIP over 226.2 innings pitched.
The big lefty was fourth in the NL for ERA (2.74), fourth in the NL for WHIP (1.02), third in the NL for strikeouts (251), second in the NL for innings pitched (226.2), tied for third in the NL for shutouts (1), and was second in the NL for complete games (4).
The San Francisco Giants have enjoyed watching their ace flourish into more than just an intimidating thrower. Bumgarner's masterful transformation into a pitcher was aided by his curveball, which he used 15 percent of the time.
His curveball averaged 76.4 mph, and carried a wCU/C of 1.72 runs saved per 100 thrown, by far his most efficient pitch according to fangraphs.
What's most impressive about Bumgarner's career season is the fact he did so while experiencing a dip in his fastball's velocity. His fastball is down from 92 mph in 2015, to now being 90.7 this season.
Bumgarner proves that control pitchers can still dominate in a generation obsessed with velocity.
San Francisco Giants' ace had his best streak from April 25- June 14th.   He went 7-0, posting an absurd 1.27 ERA over 71 innings pitched while striking out 78.
Bumgarner was also voted to his fourth consecutive All-Star game in San Diego.   The snot-rocket side slinger saw his ERA at the lowest point on June 20th where it was a minute 1.85.
His career numbers aren't bad either, going 100-67 with a 2.99 ERA in 1,397.2 innings pitched, posting a 1.09 WHIP and 1,381 strikeouts.
What Bumgarner will always be remembered for most is his postseason success and that can't be understated. He's already heavily regarded by most as the best postseason pitcher of all time.
Bumgarner is 8-3 with a 2.11 ERA in 16 playoff appearances, 14 of which came as starts, in 102.1 innings pitched. He also has 87 strikeouts and a solid 0.89 WHIP. What he may be remembered most for is his 2014 postseason run, where he threw a record 52.2 innings and posted a 1.03 ERA. His six postseason starts with zero runs allowed is tied for first with Tom Glavin.
Want your voice heard? Join the Around The Foghorn team!
He holds many records, especially on the game's biggest stage. Bumgarner is the World Series record holder for lowest ERA with a minimum 25 innings pitched at 0.25, and is 5-0 in four starts.
Madison Bumgarner also holds the record for most innings pitched in an elimination game without allowing a run in winner-take-all games with 22. His 2.11 ERA in the postseason is second lowest of all time with minimum 10 starts. Bumgarner also has the lowest road ERA in MLB postseason history at 0.50 with a minimum 25 innings pitched.
Bumgarner did all of this by age 27, and the bulk of it by age 25. The question for the San Francisco Giants will not be if they'll extend Bumgarner, but when. They certainly are open to extending Bumgarner when both sides determine the time is right. In other words, probably when Bumgarner's side wants to seriously push talks.
Next: Why Mark Melancon is Superior at Preventing Runs
Stay tuned to Around the Foghorn for all your latest Giants news!