SF Giants hitting prospects week in review (8/28-9/10)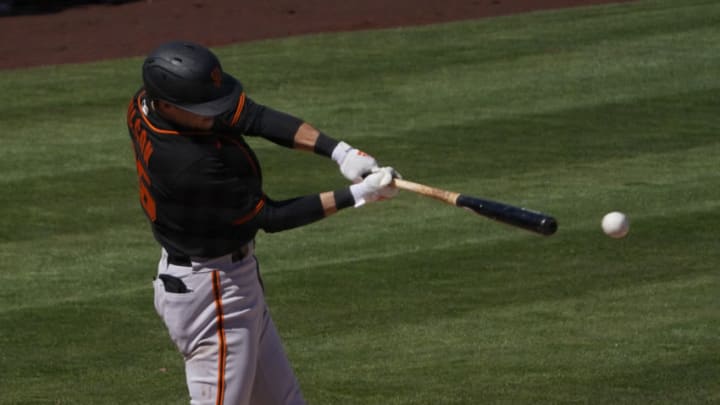 SF Giants infielder Will Wilson (85) hits a three run double against the Los Angeles Angels during a spring training game at Tempe Diablo Stadium. (Rick Scuteri-USA TODAY Sports) /
SF Giants hat in the dugout. (Photo by Rich Schultz/Getty Images) /
SF Giants Prospects Weekly Rundown: Rookie
Notable Performers
Aeverson Arteaga: 8 G, 32 AB, .313 AVG, .934 OPS, 2 2B, 2 HR, 11 RBI, 3 BB, 12 K
Jacob Gonzalez: 9 G, 30 AB, .367 AVG, 1.041 OPS, 1 2B, 2 HR, 4 RBI, 2 BB, 4 K
Vaun Brown: 7 G, 27 AB, .444 AVG, 1.368 OPS, 4 2B, 2 3B, 1 HR, 6 RBI, 2 BB, 9 K, 3 SB
Onil Perez: 8 G, 24 AB, .333 AVG, 1.109 OPS, 1 2B, 2 HR, 4 RBI, 7 BB, 2 K, 3 SB
Aeverson Arteaga went to a 25-game homerless streak where he batted .298 with a .719 OPS and a 28% strikeout rate. He then went on and hit two homers in a four-game stretch and is now tied for the home run lead with Reds prospect Yerlin Confidan with nine. It made Arteaga one of only two Giants prospects who lead the ACL in a major offensive category joining Adrian Sugastey who leads the league in batting average with .358. With both Marc and I ranking Arteaga exactly as the 10th best prospect in the organization in our updated list, the future certainly looks bright for the Venezuelan.
The road has certainly been rough for 2017 second-round draft choice Jacob Gonzalez. After batting .174 with a .502 OPS in Eugene in his first 27 games of the year, the Giants sent Gonzalez down to Arizona to regain his confidence. The results have been pleasant for Jacob, as he is batting .308 with a .890 OPS, seven home runs, and a modest 18% strikeout rate. However, it is pretty tough to trust his numbers in the level as a 23-year old who is three years older than the competition while also being his second extended time in the level. Nonetheless, Jacob looks ready to face full-season ball once again next season.
The Giants drafted Vaun Brown in the 10th round of this year's draft after drafting nine straight pitchers. Brown looks strong in his first taste of professional baseball with a .333 batting average, 1.065 OPS, 10 extra-base hits, and five steals. His performance needs to be taken into context as he is three years older than the competition because he was drafted as a redshirt senior. However, Brown's performance in Arizona this year could earn him a spot in Eugene next season.
One of the hottest hitters in the Giants' Dominican complex is 19-year old Onil Perez. The Dominican catcher is more known for his defense behind the dish than his offense but Perez is showing some solid potential offensively. With a 9:22 strikeout-to-walk ratio in 88 plate appearances, Perez is flashing a promising approach at the box with some pop to his bat. He is still one of the best defensive teenage catchers that I have watched on film and he has the potential to be relevant once he comes Stateside.
Stay tuned to Around the Foghorn for a rundown of the SF Giants pitching prospects and all the latest news and rumors from throughout the organization over the final weeks of the season.