SF Giants hitting prospects week in review (8/28-9/10)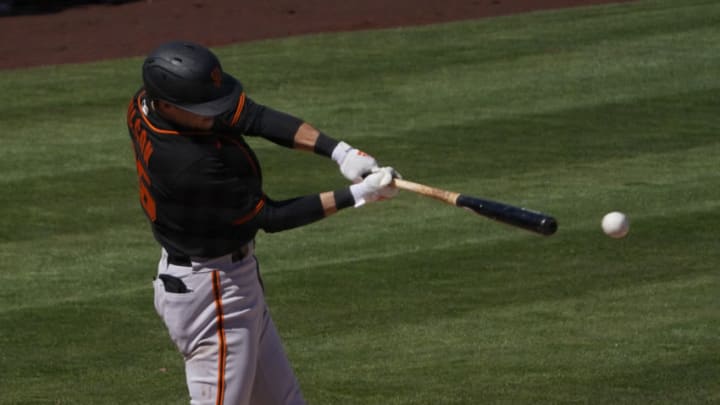 SF Giants infielder Will Wilson (85) hits a three run double against the Los Angeles Angels during a spring training game at Tempe Diablo Stadium. (Rick Scuteri-USA TODAY Sports) /
SCOTTSDALE, ARIZONA – MARCH 28: Kai-Wei Teng #82 and Patrick Bailey #93 of the SF Giants have a conversation after getting into a jam in the ninth inning against the Oakland Athletics in an MLB spring training game at Scottsdale Stadium. (Photo by Abbie Parr/Getty Images) /
SF Giants Prospects Weekly Rundown: Low-A
Notable Performers
Patrick Bailey: 11 G, 44 AB, .432 AVG, 1.260 OPS, 5 2B, 3 HR, 9 RBI, 7 BB, 7 K
Yorlis Rodriguez: 9 G, 34 AB, .294 AVG, .973 OPS, 1 2B, 3 HR, 4 RBI, 3 BB, 6 K
Ghordy Santos: 11 G, 47 AB, .298 AVG, .769 OPS, 3 2B, 1 3B, 8 RBI, 4 BB, 2 K, 1 SB
Luis Matos: 10 G, 41 AB, .171 AVG, .521 OPS, 3 2B, 1 RBI, 4 BB, 4 K, 2 SB
This is the Patrick Bailey that Giants fans have been waiting for. Bailey started popping off on August 12 and over the 20-game stretch up to Friday night's game, Bailey is batting .427 with a 1.300 OPS, 10 doubles, six home runs, and just a 16.3% strikeout rate. Bailey's recent performance is a far cry from what we have seen earlier this season where he only batted .224 with a .664 OPS and a 30.4% strikeout rate in his first 21 games in San Jose, and a .185 batting average with a .587 OPS and a 27.7% strikeout rate in Eugene. Bailey has that explosion in his bat that was lacking earlier this season and has looked to be much better physically. I compared Bailey's wake-up call to 2021 NBA MVP Nikola Jokic where he improves his conditioning during the regular season. If Bailey stays on top of his conditioning in the off-season, it's easy to see Bailey back inside the top 10 of any Giants prospect rankings.
Yorlis Rodriguez has hit three home runs in his last four games and has brought his season total to four as a San Jose Giant. The 22-year old would have played in Low-A last season had the pandemic not happened but he is making up for the lost time, batting .271 with an OPS of .835. Having taken over third base duties after Casey Schmitt's 2021 season looking to be done after getting hit in the hand by a pitch, the Cuban has looked solid at the hot corner while also providing solid pop with the aforementioned four home runs along with seven doubles while also having solid bat control with a 12.8% strikeout rate.
Like Rodriguez, Ghordy Santos would have played in Low-A last season under normal conditions. He is surely making up for the lost time after getting called up to San Jose in the middle of August. The 22-year old shortstop is batting .293 with a .752 OPS, seven extra-base hits, and three stolen bases. There are concerning issues to his game, most notably his 26% strikeout rate, but Santos has solid tools aside from his power. There is a possibility that Santos could enter the top 30 rankings in the middle of next season if he will post a strong start to his 2022 season.
After reaching as high as .330 in his batting average, Luis Matos has seen his batting average dip to exactly .300 after last night's game because he has experienced the first true slump of his professional career. In his last 17 games, Matos has only batted .167 with a .445 OPS and only three doubles in 73 plate appearances. He still has strong contact skills with only eight strikeouts over the stretch but his BABIP has been closely tied to his batting average all season long. This is the only concern against Matos: because he has average-at-best raw power, he does not produce offensively if he does not hit.