SF Giants hitting prospects week in review (8/28-9/10)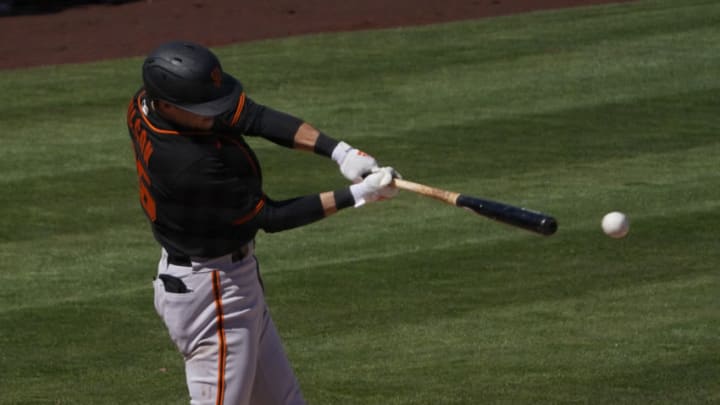 SF Giants infielder Will Wilson (85) hits a three run double against the Los Angeles Angels during a spring training game at Tempe Diablo Stadium. (Rick Scuteri-USA TODAY Sports) /
SF Giants prospect Ismael Munguia reacts after scoring a run in the first inning of a game for Nicaragua against Dominican Republic during the WBSC Baseball Americas Qualifier series at Clover Park. (Sam Navarro-USA TODAY Sports) /
SF Giants Prospects Weekly Rundown: High-A
Notable Performers
Ismael Munguia: 11 G, 47 AB, .447 AVG, 1.109 OPS, 2 2B, 1 3B, 2 HR, 11 RBI, 0 BB, 5 K, 1 SB
Jairo Pomares: 11 G, 44 AB, .250 AVG, .858 OPS, 3 2B, 4 HR, 7 RBI, 1 BB, 14 K, 1 SB
Sean Roby: 12 G, 45 AB, .268 AVG, .772 OPS, 1 2B, 2 HR, 5 RBI, 3 BB, 14 K, 1 SB
Marco Luciano: 11 G, 38 AB, .158 AVG, .443 OPS, 1 3B, 1 RBI, 3 BB, 15 K, 1 SB
There have been a lot of breakout prospects in the Giants farm system this season. Ismael Munguia is the second prospect that you might have never heard of. Among those who follow Giants' prospects closely, however, he is highly beloved for his energy, humor, and overall love for the game. Munguia is currently in a seven-game multi-hit streak and is batting .500 since the start of August. Among qualified hitters, Munguia's .334 batting average leads the High-A West and his .862 OPS is second. After only posting three home runs in his first three years of pro baseball, Munguia has hit nine this year showing more pop than ever. He also has the lowest strikeout rate out of all qualified hitters in the minors at 7.3%. Oh, he also has 15 steals that is third in the team. He might have a utility-type future but his performance this year warranted a top 30 spot in both Marc and my top 30 rankings.
Jairo Pomares continued his power barrage in Eugene with four home runs this week. He has proven to be able to hit a ball out wherever a pitch is located as proven by his two-homer game on August 31st where he hit one up and in and also golfing one on a low and away pitch. His strikeout rate ballooned to over 30% in Eugene, something that he must work on in the off-season, but he has reminded me of former Giant Pablo Sandoval in terms of having the ability to make hard contact on pitches that are on the edge of the strike zone.
With two home runs in the past two weeks, Sean Roby is now tied for the High-A West lead in home runs with 19 for the season. What was incredible is that 10 of those 19 home runs came from the start of August. Since August 1st, Roby has had a .624 slugging percentage and a .316 batting average. The strikeouts are there to stay with a 29.7% rate over the stretch which is consistent with his 32.1% rate this season but there is big-league potential because he is able to tap to his raw power consistently in games.
On the other side of the spectrum, Marco Luciano went back to a slump. What was fascinating was that ever since hitting his first home run in his second game as an Emerald, he has not yet hit another home run in the 30 games since with only a double and two triples to show for. It is growing pains that Luciano was learning in High-A and I expect the just turned 20-year old to attack the level with a better game plan next season.