SF Giants hitting prospects week in review (8/21-8/27)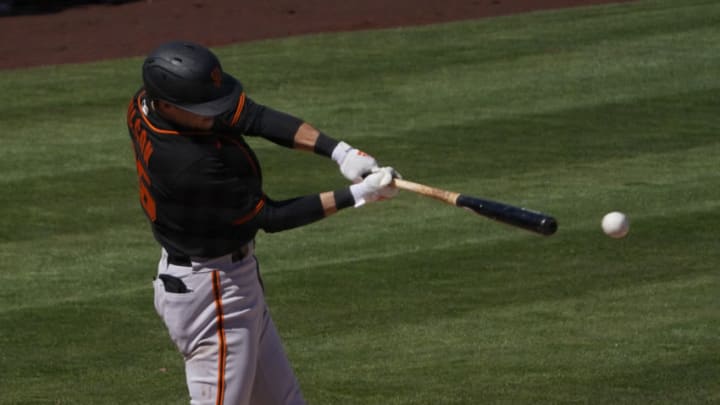 SF Giants infielder Will Wilson (85) hits a three run double against the Los Angeles Angels during a spring training game at Tempe Diablo Stadium. (Rick Scuteri-USA TODAY Sports) /
SF Giants hat. (Photo by Victor Decolongon/Getty Images) /
SF Giants Prospects Weekly Rundown: Rookie
Notable Performers
Diego Velasquez: 5 G, 16 AB, .375 AVG, .911 OPS, 1 2B, 1 RBI, 2 BB, 1 K, 1 SB
Garrett Frechette: 5 G, 17 AB, .412 AVG, .885 OPS, 0 HR, 2 RBI, 2 BB, 5 K
Donovan McIntyre: 5 G, 17 AB, .294 AVG, .812 OPS, 1 3B, 0 RBI, 3 BB, 7 K, 3 SB
Mauricio Pierre: 4 G, 13 AB, .308 AVG, .896 OPS, 1 HR, 3 RBI, 1 BB, 4 K
The more I see how Diego Velasquez is faring in Complex ball, the more I am getting more and more impressed. The 17-year old is flashing one of the most advanced bat control and strike zone awareness as evidenced by his under 9% walk rate and 11% strikeout rate. There is still little power to his swing with his .029 ISO but he projects as more of a contact-oriented hitter who has yet to physically mature and it is evident to his rather Japanese-style swing mechanics. I expect him to finish the season in Arizona.
After getting overwhelmed by an aggressive promotion to the full-season ball where he only managed to hit for a .219 batting average, the Giants sent down Garrett Frechette to Arizona to regain his form. After 36 games, it is safe to say that Frechette's back on track. He is fifth in the Arizona League in batting average with .339 with a .863 OPS, 10 doubles, a triple, and a homer. The lack of home run power is slightly worrying and his greater than 25% strikeout rate across two levels is also concerning but the silver lining is that he is only 20 years old and is flashing strong bat-to-ball ability.
While the first five draft selections by the Giants this year have not yet started their professional career, several of their Days 2 and 3 selections have started playing in Arizona. After a week of action, Donovan McIntyre is off to a good start to his pro career with him flashing off his assets starting with his at least plus speed with his triple and three stolen bases. How refined his approach at the plate as he steps in pro ball is something to follow this season.
With the way things are going this early in their professional careers, it looks like the Giants have added a couple of very promising Panamanian prospects in Adrian Sugastey and Mauricio Pierre. While Sugastey has already established himself as a top 30 prospect as he is currently second in the Arizona League with a .350 batting average, Pierre is doing very well for himself especially with the way their rhythm has been hampered by a COVID outbreak and a storm. The Panamanian hit his third home run this season this week and is batting .308 and a .915 OPS in 16 games this season. The athletic outfielder has the tools to become a top 30 prospect.
Stay tuned to Around the Foghorn for all the latest SF Giants news and rumors from the majors through minor leagues.