SF Giants hitting prospects week in review (8/21-8/27)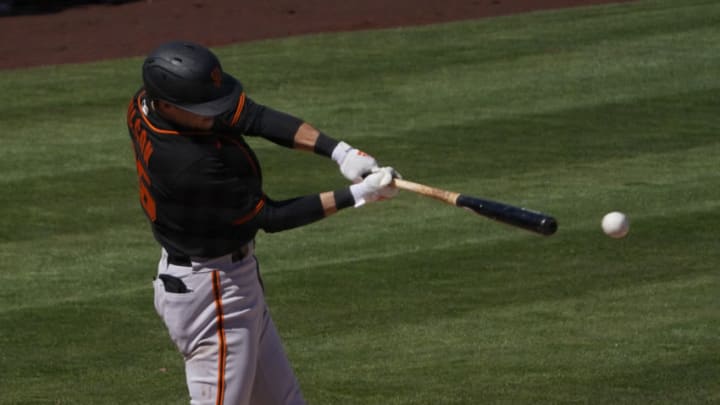 SF Giants infielder Will Wilson (85) hits a three run double against the Los Angeles Angels during a spring training game at Tempe Diablo Stadium. (Rick Scuteri-USA TODAY Sports) /
SCOTTSDALE, ARIZONA – MARCH 28: Kai-Wei Teng #82 and Patrick Bailey #93 of the SF Giants have a conversation after getting into a jam in the ninth inning against the Oakland Athletics in an MLB spring training game at Scottsdale Stadium. (Photo by Abbie Parr/Getty Images) /
SF Giants Prospects Weekly Rundown: Low-A
Notable Performers
Patrick Bailey: 6 G, 24 AB, .375 AVG, 1.090 OPS, 4 2B, 1 HR, 3 RBI, 2 BB, 4 K
Harrison Freed: 5 G, 19 AB, .421 AVG, 1.266 OPS, 4 2B, 1 HR, 6 RBI, 2 BB, 2 K
Grant McCray: 6 G, 22 AB, .227 AVG, .519 OPS, 0 HR, 2 RBI, 2 BB, 9 K, 1 SB
Luis Matos: 6 G, 25 AB, .160 AVG, .314 OPS, 0 HR, 1 RBI, 0 BB, 4 K
"Better late than never" might be Patrick Bailey's motto this season as he is currently on a two-week hot streak where he is batting .419 with five doubles, three home runs, and just seven strikeouts in 35 plate appearances. His hot streak boosted his August numbers to a .302 batting average with a .988 OPS. The catcher is still a disappointment on both sides of the ball this season with a .231 batting average across two levels, especially with how much preferential treatment that the front office gave to him last season. A hot streak at the end of the season can alleviate some of that disappointment, however.
Harrison Freed has enjoyed his time in Lake Elsinore this week as the power-hitting outfielder is batting .500 with four doubles and a home run against the Storm. The big-bodied outfielder has had a solid August with a .259 batting average, .818 OPS, five doubles, and a couple of home runs. He's also trimmed down his strikeouts a bit with 27.4% this month, but is still recording a 31.25% rate this season. He is poised to lock down one of the corner outfield spots as the Giants look to secure first place in their division.
A couple of prospects got called up for their first taste of full-season ball this month. Grant McCray is one of them. After launching his first home run as a San Jose Giant in his first at-bat, it's been rough goings for the lefty outfielder as he looked overmatched often. I am highly optimistic that he will adjust eventually as he fully gets his feet wet against better pitching but he is still providing strong value as a defender in the outfield where he grades out as above-average in center with plus speed and instincts.
For the first time this season, Luis Matos is in a slump, only batting 4-25 this week. His rough week resulted in him plummeting his batting average from .324 to a more modest .313 this season which is still good for fifth in Low-A West. Upon observation, there is not really a deviation upon his approach recently and he is more of running into outs rather than forcing too much. It will be interesting if this slump extends into September or will he finish his first full season strong.