SF Giants hitting prospects week in review (8/21-8/27)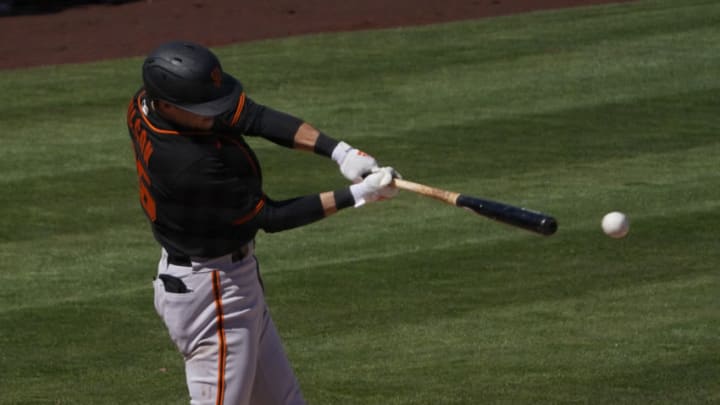 SF Giants infielder Will Wilson (85) hits a three run double against the Los Angeles Angels during a spring training game at Tempe Diablo Stadium. (Rick Scuteri-USA TODAY Sports) /
DENVER, COLORADO – JULY 11: Marco Luciano #10 of the National League plays the American League team during the MLB All-Star Futures Game at Coors Field on July 11, 2021 in Denver, Colorado. (Photo by Matthew Stockman/Getty Images) /
SF Giants Prospects Weekly Rundown: High-A
Notable Performers
Marco Luciano: 7 G, 23 AB, .391 AVG, .831 OPS, 0 HR, 2 RBI, 2 BB, 7 K
Jairo Pomares: 7 G, 27 AB, .296 AVG, .704 OPS, 1 2B, 1 3B, 2 RBI, 0 BB, 7 K
Brett Auerbach: 6 G, 24 AB, .292 AVG, .778 OPS, 1 2B, 1 HR, 1 RBI, 1 BB, 8 K, 2 SB
Sean Roby: 6 G, 22 AB, .273 AVG, .788 OPS, 1 2B, 1 HR, 1 RBI, 2 BB, 9 K
For Marco Luciano, adjusting to High-A ball is more a matter of when and not if. If you guessed that it will only take him nine games and 38 at-bats, however, then take the cake because that's what Luciano did. After batting .105 in his first nine games, Luciano is batting .366 in his last 12 games. He has not flashed the power in his hot streak with only one extra-base hit (a double), it might be for the better as he continues to improve his plate approach against better competition. The strikeouts are still high over the stretch with a 35.56% rate but we are seeing the maturity of Luciano as he continues to soak in the experience.
Speaking of soaking in the experience, another one who is handling the promotion well is Jairo Pomares. He's had a base hit in 10 of 11 games for the Emeralds this season and he is batting .326 for the squad. The power surge that Pomares truly enjoyed in San Jose has not yet carried over to Eugene, however, with a .488 slugging percentage compared to his .693 slugging in Low-A ball.
Brett Auerbach has another strong all-around week. He has hit a home run in three straight games over the past two weeks, the third and the only home run was an inside the parker. Auerbach has now hit 12 home runs as an Emerald which is already good enough for third even though he has only played for the team for just over two months. A cumulative 20-20 season is a possibility if he can hit six more in September.
A slowdown for Sean Roby this week was to be expected after his bat caught on fire in the first two weeks of action. It was not as sharp of a decline that I expected, however, as he still hit a double and a home run in six games. His August is still awesome with a .337 batting average, eight doubles, a triple, and eight home runs. Strikeouts are the only thing that limits Roby's ceiling with a 29.1% strikeout rate amidst the hot-hitting. A strong finish for Roby sets him up well for a Double-A stint next season.