SF Giants hitting prospects week in review (8/21-8/27)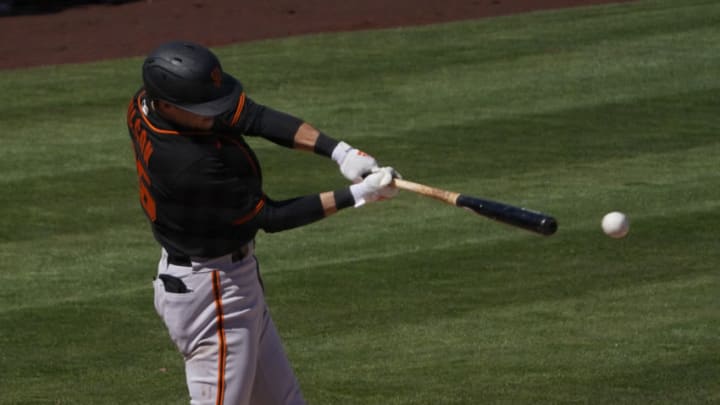 SF Giants infielder Will Wilson (85) hits a three run double against the Los Angeles Angels during a spring training game at Tempe Diablo Stadium. (Rick Scuteri-USA TODAY Sports) /
Eugene Emeralds Will Wilson (center) celebrates his 8th inning home run with Frank Labour at PK Park in Eugene. /
SF Giants Prospects Weekly Rundown: Double-A
Notable Performers
Diego Rincones: 6 G, 25 AB, .360 AVG, 1.189 OPS, 1 2B, 3 HR, 6 RBI, 2 BB, 4 K
Will Wilson: 6 G, 21 AB, .333 AVG, .964 OPS, 1 2B, 1 HR, 3 RBI, 4 BB, 5 K
David Villar: 5 G, 19 AB, .316 AVG, 1.223 OPS, 1 2B, 3 HR, 6 RBI, 1 BB, 3 K

A trio of Flying Squirrels hitters were officially on fire this week. First, outfielder Diego Rincones. Rincones had his seven-game hit streak snapped in last night's game, but he is still often finding the barrel often with a .349 batting average, .984 OPS, six doubles, and five home runs. He is not walking to the tune of only a 3.3% walk rate but he is not also striking out a lot either with a 14.1% strikeout rate. Rincones knows where his bread is buttered as he terrorizes pitches on the lower half of the strike zone and the bat has MLB potential.
After hitting rock bottom since getting promoted to Richmond, Will Wilson has turned a leaf and has found his footing. You might ask what has changed? After missing a week of action, Wilson has looked like his old self over the past two weeks. In his first five weeks as a Flying Squirrel, Wilson has changed his approach towards pulling the ball more. It clearly has not worked to the tune of a .157 batting average and a 38% strikeout rate in 31 games. Over the past eight games, Wilson reverted to his more patented gap-to-gap approach that has worked as an Emerald and it has worked wonders with a .357 batting average and just an 18% strikeout rate. Looks like the old Will Wilson is back.
David Villar has taken his game to another level this month with his stellar offensive performance. The third baseman is batting .333 this month with 1.1118 OPS, eight doubles, and six home runs. He is now one home run away from setting the Flying Squirrels single-season record.
He is now inside the top 10 in both doubles and home runs in the Double-A Northeast with 23 doubles and 17 home runs, respectively. His strikeout rate which is a concern for him for much of this season has been kept in check this month with an 18% rate. His strong August and Major League-quality defense gives him a puncher's chance of becoming a big leaguer.