SF Giants Prospects
SF Giants hitting prospects week in review (7/24-7/30)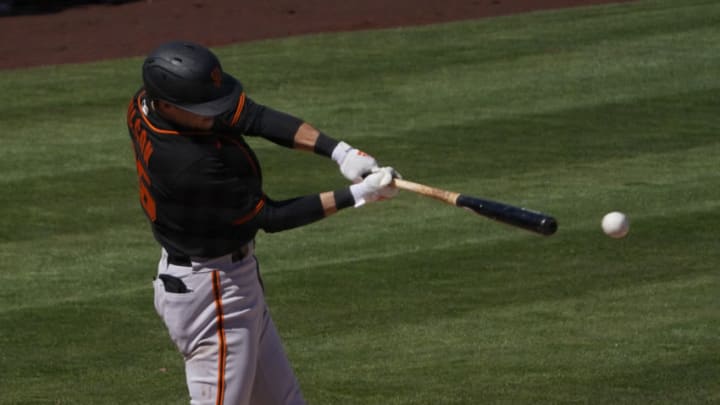 SF Giants infielder Will Wilson (85) hits a three run double against the Los Angeles Angels during a spring training game at Tempe Diablo Stadium. (Rick Scuteri-USA TODAY Sports)
Eugene Emeralds catcher Patrick Bailey, left, congratulates pitcher Travis Perry at the end of the fifth inning against the Hillsboro Hops at PK Park in Eugene.
SF Giants Prospects Weekly Rundown: Low-A
Notable Performers
Luis Matos: 6 G, 25 AB, .440 AVG, 1.081 OPS, 1 2B, 1 HR, 8 RBI, 2 BB, 1 K, 1 SB
Patrick Bailey: 5 G, 16 AB, .313 AVG, .888 OPS, 2 2B, 1 RBI, 3 BB, 7 K, 1 SB
Jairo Pomares: 6 G, 22 AB, .409 AVG, 1.186 OPS, 4 2B, 1 HR, 10 RBI, 1 BB, 5 K
Jimmy Glowenke: 6 G, 21 AB, .333 AVG, 1.214 OPS, 2 2B, 2 HR, 6 RBI, 6 BB, 9 K, 1 SB
It's a week of healthy hitting for the loaded San Jose lineup except for top prospect Marco Luciano, who only hit .182 but with a triple and a home run as he missed a couple of days with shoulder discomfort.
The hottest hitter over the week is Luis Matos who is just unconscious over the past 15 games where he's batting .388 with a 1.005 OPS, five doubles, three home runs, and just 7 strikeouts in 67 at-bats. The Venezuelan outfielder now is fourth in Low-A West with a .311 average and doubles, and fifth in RBI. He's getting better and better as the season hits the home stretch, and he's shown he's one of the best pure hitters in the minor leagues.
A hitter who finally had a solid stretch of games is Patrick Bailey. The 2020 first-round pick had a solid four-game stretch where he hit 7-13 with two doubles, five walks, and just three strikeouts within the week. The strikeouts are still ugly with a 35% rate this week and 32.76% since getting added into the San Jose roster, but he's still hitting the ball hard where one groundout had an exit velocity of 107 MPH. It's been a very disappointing season for Bailey, but hopefully his solid stretch this week could spark a strong finish to the season.
A couple of strong hitters rounds out the Giants' side of things this week. Jairo Pomares had another dominant week offensively and he's just killing it. Among all hitters with at least 100 plate appearances this season, Pomares' .342 batting average is the best in the Low-A West. I was skeptical early on about his aggression leading to strikeouts but over the past 12 games, his strikeout rate is under 20%. He's getting more and more selective as the season rolls on, showing the controlled aggression to match his exemplary contact skills. He's also improved his arm strength which was his weakest tool entering the season, peaking at above-average with good accuracy. He's a top 10 lock at the end of the season if he continues this exemplary form.
Rounding out the hot hitters is Jimmy Glowenke who fully recovered his old stock after a rough couple of months this season as July comes to end. Among all San Jose hitters, this month, his .452 OBP was the best, his 15 walks and his 11 doubles were tied for the best with Pomares, his .337 batting average, .611 SLG, and five home runs were second-best behind Pomares. He's getting a solid consideration as a top 30 prospect at the end of the season.
To cap off the Giants hitters, I would like to say a few words to Alexander Canario after he got traded to the Cubs. Canario is one of the prospects that were a joy to follow ever since watching this clip four years ago highlighting his power potential. Even though the years have passed since the clip and there was an ebb and flow in terms of movement in the organization, he stayed as one of the best which is a testament to his sheer talent and dedication. I wish him well and hope to see him make the big leagues as part of the next era of Cubs baseball.