SF Giants Prospects
SF Giants hitting prospects week in review (7/24-7/30)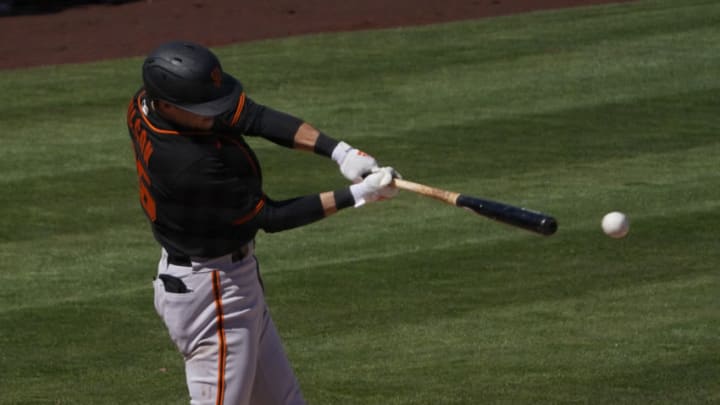 SF Giants infielder Will Wilson (85) hits a three run double against the Los Angeles Angels during a spring training game at Tempe Diablo Stadium. (Rick Scuteri-USA TODAY Sports)
Eugene Emeralds Franklin Labour runs the bases after a hit against the Hops in their first home game of the 2021 season at PK Park in Eugene.
SF Giants Prospects Weekly Rundown: High-A
Notable Performers
Franklin Labour: 7 G, 22 AB, .364 AVG, 1.245 OPS, 2 2B, 2 HR, 7 RBI, 7 BB, 9 K, 1 SB
Carter Aldrete: 7 G, 25 AB, .360 AVG, 1.048 OPS, 3 2B, 1 HR, 6 RBI, 4 BB, 7 K
Brett Auerbach: 6 G, 21 AB, .286 AVG, .994 OPS, 2 HR, 4 RBI, 3 BB, 4 K, 3 SB
Franklin Labour is a streaky hitter. When he's cold, he can still do a bit in terms of getting on base via a walk. When he's hot, however, he's as hot as it gets. Labour is in a five-game hitting streak where he's 8-16 with two doubles, two home runs, five walks, and just four strikeouts. Labour is showing hard three-true-outcomes traits with an 18% walk rate, 28% strikeout rate, and a .237 ISO but the tools are top 30 worthy if he shows consistent hitting throughout a season.
Carter Aldrete got his season back on track with a strong July performance. The 2019 15th round draft choice has a batting average of .296 with a .929 OPS this month with three doubles, six home runs, 10 walks, and 28 strikeouts in 91 plate appearances this month. He's shown defensive versatility this season playing five positions (1B, 2B, 3B, LF, RF) and only committing two errors all season long. If he can finish the season strong, his power and versatility are highly intriguing.
Speaking of defensive versatility, Brett Auerbach capped off a very solid July with another steady week offensively while continuing to play all over the diamond. There's an indication this month that Auerbach's putting more charge to the ball with the expense of more strikeouts, as evidenced by his team-leading eight home runs and a .591 SLG this month but with a 25.5% strikeout rate. There's little need for Auerbach to flex his muscles and strive to hit for more power as his skillset is already top 30 worthy, but if the power surge will get more people to notice him, it's a positive for his chances to be a big leaguer.