SF Giants Prospects
SF Giants hitting prospects week in review (7/24-7/30)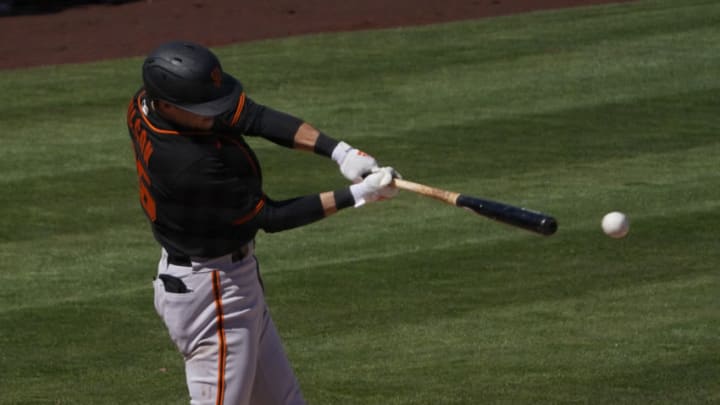 SF Giants infielder Will Wilson (85) hits a three run double against the Los Angeles Angels during a spring training game at Tempe Diablo Stadium. (Rick Scuteri-USA TODAY Sports)
Hillsboro Hop's pitcher Joe Jones, right, tries in vain for the tag at home on Eugene Emeralds' (SF Giants Low-A affiliate) Diego Rincones in the 8th inning during the Em's first home game of the 2021 season at PK Park in Eugene.
SF Giants Prospects Weekly Rundown: Double-A
Notable Performers
Simon Whiteman: 5 G, 22 AB, .409 AVG, .913 OPS, 1 2B, 2 RBI, 2 BB, 7 K, 2 SB
Diego Rincones: 5 G, 18 AB, .167 AVG, .786 OPS, 1 2B, 1 3B, 1 HR, 1 RBI, 3 BB, 5 K
Will Wilson: 5 G, 21 AB, .095 AVG, .589 OPS, 2 HR, 5 RBI, 3 BB, 11 K
What a week and a half for speedster Simon Whiteman to finish off his July as he's currently on an eight-game hitting streak where he's hitting .424 with a 1.015 OPS, three doubles, and two stolen bases. This week is also the first time in 39 games that he's been caught stealing. The middle infielder has a .311 batting average this month and I've timed one of his hustle infield singles at 3.75-3.80 seconds. That's 80-grade speed.
On the flip side, both Diego Rincones and Will Wilson only combined to go 5-39 this week, but all of those hits went for extra bases. I am not really worried about Rincones as he had a solid week last week. However, I am very worried about Wilson. With 11 more strikeouts, it brings his total strikeouts for Richmond to 34. Looking at his recent at-bats, Wilson's giving the vibes that he's selling out for power. That approach has clearly been not effective with his 35% strikeout rate. It is a worrying time for the shortstop. Granted, it does make for some fun highlights.