SF Giants hitting prospects week in review (7/24-7/30)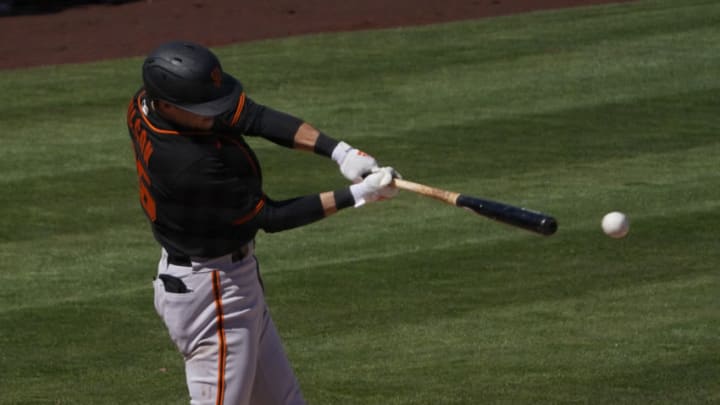 SF Giants infielder Will Wilson (85) hits a three run double against the Los Angeles Angels during a spring training game at Tempe Diablo Stadium. (Rick Scuteri-USA TODAY Sports) /
DENVER, CO – JULY 11: Heliot Ramos #14 of National League Futures Team bats against the American League Futures Team at Coors Field on July 11, 2021 in Denver, Colorado Ramos is a prospect in the SF Giants organization.(Photo by Dustin Bradford/Getty Images) /
Make sure to revisit our weekly SF Giants prospect rundowns to keep up with each of their minor-league affiliates. If you do not feel well acclimated to the prospects throughout the farm system, you might want to revisit our prospect week articles that detailed the system from the top prospects to lower-level fringes. If you're just interested in the biggest names, then the preseason SF Giants top 31 prospects list is the one-stop-shop for you.
SF Giants Prospects Weekly Rundown: Triple-A
Notable Performers
Heliot Ramos: 7 G, 22 AB, .273 AVG, .838 OPS, 3 2B, 3 RBI, 6 BB, 7 K, 2 SB
Will Toffey: 5 G, 12 AB, .333 AVG, 1.050 OPS, 1 HR, 2 RBI, 2 BB, 6 K
Bryce Johnson: 7 G, 15 AB, .400 AVG, 1.140 OPS, 1 2B, 1 HR, 5 RBI, 3 BB, 4 K
After getting called up to the River Cats on July 21, Heliot Ramos has shown that he's up to the task. The Puerto Rican is currently rocking a four-game hitting streak where he's 6-17 with three doubles to his credit. It is a bounce-back month for the 21-year old after struggling very hard in June, and the front office rewarded his effort with this promotion. For someone who is almost six years younger than the average competition, Heliot looks like he belongs.
With several Giants veterans doing their rehab stints in Sacramento this week, it limited the playing time of Will Toffey. When Toffey played though, he looked pretty good on the field, displaying an ability to defend multiple positions and did not look bad at the plate. There's little chance that he gets called up to the big league club this season as the Giants have their sights set on winning the division, but he is showing positive development.
After struggling for the past month and a half, Bryce Johnson put up what was arguably his best game this season on July 24th, where he went 4-5 with a walk, a double, a home run, and 4 RBI. It was the bulk of his production this week but it was a very memorable one. Like Toffey, it's unlikely to see him in the big leagues this year but it's nice to see him continue to get good playing time.