SF Giants prospects rundown 5/9: Eugene scores 15 in blowout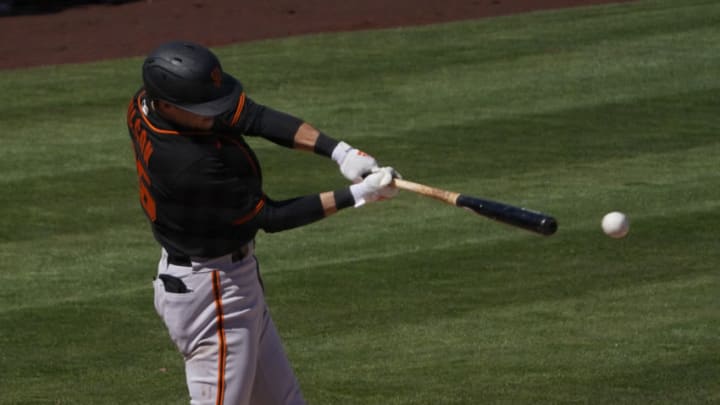 SF Giants infielder Will Wilson (85) hits a three run double against the Los Angeles Angels during a spring training game at Tempe Diablo Stadium. (Rick Scuteri-USA TODAY Sports) /
Auburn's Garrett Wade (40) throws the ball to Auburn's Rankin Woley (4) before Alabama's Brett Auerbach (7) makes it to first base during the Auburn-Alabama Capital City Classic at Riverfront Park in Montgomery, Ala., on Tuesday, March 26, 2019. Alabama defeated Auburn 6-3. The SF Giants signed Auerbach as an NDFA last summer. /
SF Giants Prospects Rundown 5/9: Low-A
Fresno Grizzlies 3 at San Jose Giants 5
Performance of the Game: Armani Smith (2-2, HR, BB, 3 R, 2 RBI)

Heading into the season, the San Jose Giants roster was filled with powerful hitting prospects. The roster looked primed to show off some highlight-reel power. Through the first few games of the year, though, most of the hitters, especially those making their full-season debuts, have struggled against Fresno's pitchers. While the offense was far from clicking on all cylinders on Sunday, fans got to see a glimpse of this roster's highlight reel potential.
Top prospects Alexander Canario and Marco Luciano were quiet, both finishing 0-4 with two strikeouts, while Luis Matos received the day off. However, some of the more prominent former college players picked up the slack. After Zac Veen gave the Grizzlies an early 2-0 lead, Armani Smith started a small rally of his own, grounding a single past the shortstop. An error by the opposing second baseman on a hard-hit grounder by Casey Schmitt enabled Smith to finish his trip around the bases and cut the lead.
When Smith returned to the plate, he ensured the Giants would take the lead with a towering 400+ foot home run to put them up 3-2. After Fresno tied the game in the sixth, Smith worked a lead-off walk in the bottom of the seventh and scored on a massive home run by Schmitt.
The final line might suggest otherwise, but starting pitcher Prelander Berroa looked more comfortable on the mound than he did on Opening Day, finding more consistent location with all of his pitches. He again sat between 91-93 mph, touching 94 with his fastball, while occasionally deploying his breaking ball to minimal success. A throwing error by Schmitt on a bunt and some bad batted-ball luck in the first inning put Berroa in a quick hole, but he pitched through the rally well. He allowed two runs on five hits and one walk alongside two strikeouts in 3.1 innings of work. Justin Crump, who recorded his second win of the season, was incredibly valuable out of the pen, shutting out the Grizzlies for the final 2.2 innings.
We'll be back with looks at the SF Giants farm system throughout the minor-league season with daily rundowns on the entire organization's minor-league affiliates.