SF Giants prospects rundown 5/9: Eugene scores 15 in blowout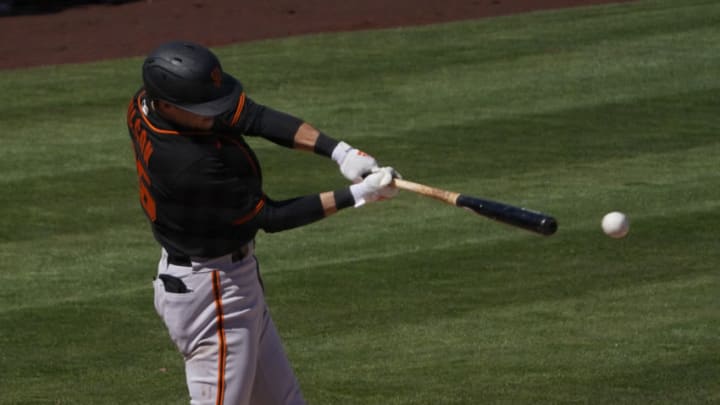 SF Giants infielder Will Wilson (85) hits a three run double against the Los Angeles Angels during a spring training game at Tempe Diablo Stadium. (Rick Scuteri-USA TODAY Sports) /
SF Giants catcher Joey Bart looks on while walking back to his position against the Arizona Diamondbacks in the top of the eighth inning at Oracle Park on September 07, 2020. (Photo by Thearon W. Henderson/Getty Images) /
Minor league baseball is finally back. After MLB canceled last year's slate of affiliate games due to the COVID-19 pandemic and began an unprecedented consolidation of minor-league ball, fans finally have official box scores to track and highlights to watch on MILB TV. Make sure to revisit our daily SF Giants prospect rundowns to keep up with each of their minor-league affiliates.
If you do not feel well acclimated to the prospects throughout the farm system, you might want to revisit our prospect week articles that detailed the system from the top prospect to lower-level fringes. If you're just interested in the biggest names, then the preseason SF Giants top 31 prospects list is the one-stop-shop for you.
SF Giants Prospects Rundown 5/9: Triple-A
Sacramento River Cats 3 at Las Vegas Aviators 6
Performance of the Game: Bryce Johnson (3-5, 2 2B, K, R)

Bryce Johnson had an impressive offensive performance for the second consecutive day, adding a pair of doubles to an impressive early-season line. The historically light-hitting centerfielder has performed like an entirely different player at the plate in 2021. Johnson's two home runs were already an aberration from his previous performances, but he's never really hit other extra-base hits either. Just four games into this season, he already has five extra-base hits, an impressive feat for anyone, but especially a player who has never generated more than 35 extra-base hits in a season.
While Johnson's bat was the most potent in Sacramento's lineup on Sunday, it was a two-run single by Joey Bart followed by a Joe McCarthy RBI single responsible for the River Cats' three-run third inning. Bart finished the game 2-4, raising his early-season batting average to .308.
Scott Kazmir made his first start of the season and was reasonably effective. The 37-year-old was far from dominant but struck out three without surrendering a walk in three innings of work. The lone run he allowed came on a sacrifice fly after a pair of singles to start the game.
Shun Yamaguchi took over with a 3-1 lead in the fourth and quickly allowed a solo home run, cutting Sacramento's lead in half. Then, in a difficult sixth inning, Yamaguchi allowed four runs on three hits, a walk, and an error (two of the runs were unearned), which brought the game to its final 6-3 score. Yamaguchi was otherwise effective at limiting groundballs but struggled to generate much swing-and-miss, striking out just three over five innings of work with four hits and two walks.