SF Giants prospects position preview chat: Corner Infield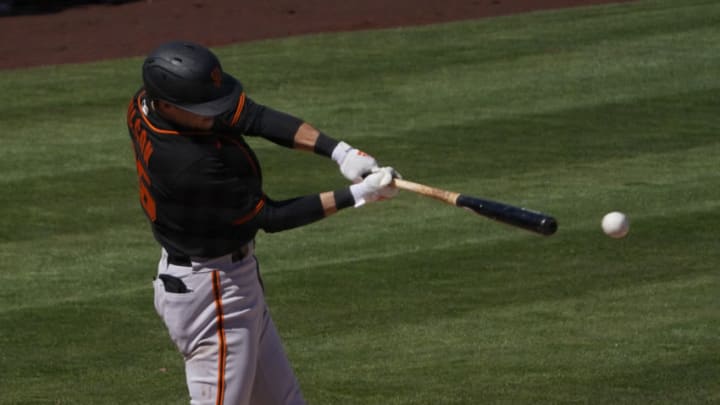 SF Giants infielder Will Wilson (85) hits a three run double against the Los Angeles Angels during a spring training game at Tempe Diablo Stadium. (Rick Scuteri-USA TODAY Sports) /
SF Giants first baseman Wyatt Logan #88 poses during media day at Scottsdale Stadium. (MLB photos via USA TODAY Sports) /
M: How do you view Sean Roby? He's mostly played third base so far, but I think he's headed to first or even DH down the line.
W: Roby had an exciting spring last year before the pandemic. I think Roby can play third base in the minors. I think he is athletic enough and has a strong arm to play the position. But I kind of agree with you that he will likely be a 1B, corner OF, or a DH down the line when he has that power stroke working. He kind of reminds me of a more athletic Darin Ruf.
SF Giants prospects position preview chat: First Base
M: Ooo, I like that Ruf comp for Roby. First base is one of the thinner positions in the system, which isn't too big of a deal since so many current outfielders or third baseman could end up there. Logan Wyatt and Connor Cannon are the first basemen who stand out to me.
W: Those two are the ones who stand out to me as well although I will add Garrett Frechette into the mix. I think he is kind of floating under the radar because there were no games last year. But Frechette could potentially make noise in 2021.
He looked better than ever during the quarantine. His power potential is still in question, but there is no doubt in my mind that he can hit. We know he has the power potential to be a legitimate threat (he hit balls into the water at Oracle in his pre-draft workout) but the onus is on the coaches to help him tap into it more often.
M: Yeah, Roger Munter has been talking up Frechette all offseason, but I think he might be able to stick in left field. Cannon has a lot of questions, both his contact ability and injury track record, but his 80-grade power is just too enticing for me to ignore. On the Wyatt front, he's easily the best first-base prospect in the organization, but he's quite unique. He's yet to hit for big-time power, has elite discipline, and should be great defensively at first, but it's not the standard profile fans expect. Does that concern you?
W: Oh yeah. With regards to Cannon, we have yet to see him in full-season ball so it's pretty interesting that the Giants nabbed a guy with that loud of a tool in Day 3 of any draft. I hope he stays healthy and if his performance in rookie ball continues this year, he can make some end-season top 30 lists.
About Wyatt, I am concerned because there have been too many recent players with similar profiles that became busts. Pavin Smith, Matt Thaiss, and Will Craig were all hit-over-power, walk-oriented first baseman who just fizzled out when they tried to learn to hit for power. Based on what I saw on Wyatt in his ABs in ST, I do not think hitting for power is a priority for him. He lets his hands guide the bat to the zone and tries to pepper balls over the field.
M: Yeah, Evan White is another one of those guys. Although, I don't know if I'm fully out on him and Smith just yet. Anyway, we've already said a decent amount, any other corner infielders you want to highlight?
W: White though has a lot of other things to offer, like speed. Oh man, I was so disappointed when the Mariners drafted him a couple of picks before the Giants in 2017. We got Heliot though, so that worked out.
There are a couple of other players that I want to mention. I think Jacob Gonzalez made huge strides in 2019 in terms of his offensive production with his revamped swing and approach. It is disappointing that we did not see him continue to perform last year but he is a guy that was once a second-round pick and is still relatively young.
Lastly, even though he is not a top prospect, I'm excited to watch David Villar again. I think he has the defensive capabilities to stick at third in the bigs and hit for power but he has obvious contact issues and high strikeout numbers.
M: Interesting, it would be really cool to see Gonzalez rekindle his prospect stock. He was in his age 20-21 season in 2019, and he struck out in just 15.9% of his plate appearances at Augusta. There's definitely some intriguing upside if he can start tapping into his power potential more.
W: Yeah. He's showed great progress. He's walked more, struck out less, showed more power, a more balanced and consistent swing. Just everything that you hoped for Gonzalez except for his defense happened in 2019. I think he will still have some growing pains and his development will likely be a bit slow, but there's a shot that he will be a big leaguer in his mid-to-late 20s.
M: Awesome. Great chat! I can't wait to talk to you next weekend about the org's middle infielders.
W: I had a great time as well! I also can't wait to talk about the middle infield because it is a DEEP group. I hope it won't get really long haha
Stay tuned to Around the Foghorn for plenty more SF Giants prospects coverage. Next week, Wrenzie and Marc will be back with another discussion, this time diving into the Giants middle infielders.