Unexpected SF Giants Prospect Makes ESPN's Top 100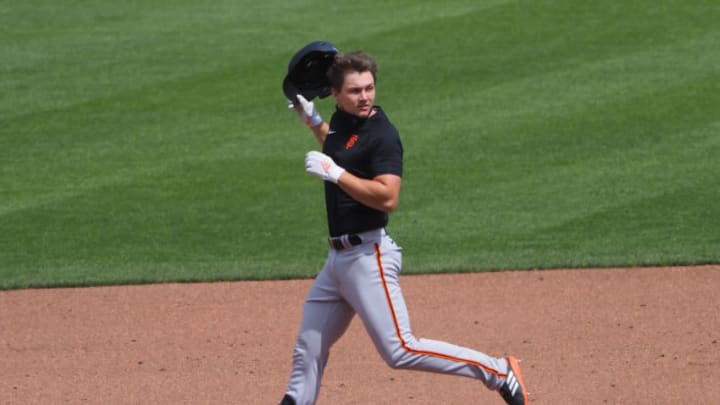 SF Giants catcher Patrick Bailey (00) runs for second base at Oracle Park. (Kelley L Cox-USA TODAY Sports) /
SF Giants 2020 first-round pick Patrick Bailey at the alternate site in Sacramento last summer. (Kelley L Cox-USA TODAY Sports) /
ESPN prospect writer Kiley McDaniel, who has previously worked in Atlanta's scouting department and with FanGraphs, released his annual preseason MLB top-100 prospect rankings. Four SF Giants prospects, Marco Luciano, Joey Bart, Heliot Ramos, and Patrick Bailey, made the list. While Luciano, Bart, and Ramos have become mainstays on nearly all lists, Bailey has rarely been in such conversations.
Bailey was drafted by the Giants with the 13th overall selection in the 2020 MLB Draft. A catcher out of North Carolina State, McDaniel compares Bailey to Bart as a strong defensive catcher with an offensive profile that's more power than contact.
SF Giants prospects Marco Luciano, Joey Bart, Heliot Ramos, and Patrick Bailey ranked among Kiley McDaniel's Top-100 prospects.
Luciano is one of the most exciting prospects in the league. After an explosive debut as a 17-year old in the Arizona League, Luciano hit .322/.428/.616 in 38 games; McDaniel ranks him as the seventh-best prospect in the league. McDaniel still expects Luciano to move from shortstop to third base as his body matures but has enough confidence in the teenager's offensive potential to make up for it.
Bart ranks 32nd on McDaniel's list, a noticeable drop from McDaniel's rankings last year when he ranked seventh. While he still has top-end catcher potential, concerns about Bart's pitch selection and ability to make consistent contact seem to have heightened.
Ramos ranks as the 62nd best prospect, right in line with his previous rankings. McDaniel notes that his arm may be his only plus tool but that he has a well-rounded profile capable of becoming an above-average player.
The SF Giants farm system has slowly seen its stock rise in recent years. Marco Luciano, Joey Bart, and Heliot Ramos have become consensus top-100 prospects around baseball. However, according to ESPN's Kiley McDaniel, last year's first-round selection Patrick Bailey belongs among the system's top trio of prospects as one of the best 100 in Major League Baseball.