SF Giants Podcast Ep. 13 ft. Dr. Nola Agha: MiLB Realignment, Player Development, More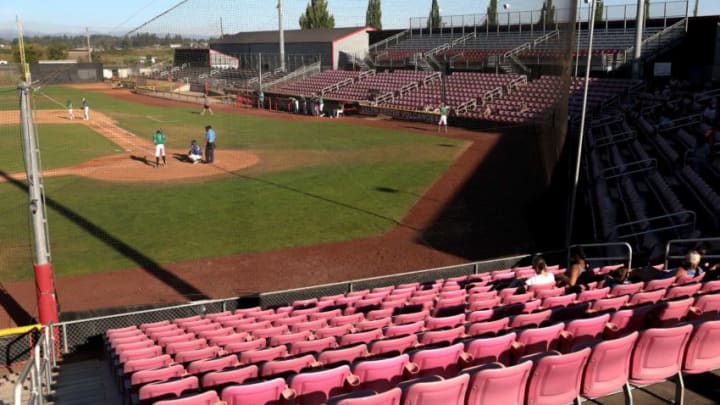 Family and friends watch as the Titans and Seeds play at Volcanoes Stadium in Keizer, Oregon, on Wednesday, July 22, 2020. The Titans rented the stadium out on Airbnb. Volcanoes Stadium Available To Rent On Airbnb /
Jerry and JoAnn Wood pose for a portrait at the Volcanoes Stadium in Keizer, Ore. on Dec. 18, 2019. They have been Volcanoes season ticket holders for 23 years. /
Sound the Foghorn is FanSided's flagship SF Giants podcast hosted by Around the Foghorn co-site expert Marc Delucchi. A new episode comes every week (typically every Sunday) with a different guest to offer their own perspective and analysis of the Giants, other happenings around professional baseball, and beyond.
In this week's episode, Marc is joined by Dr. Nola Agha, an associate professor of sports management at the University of San Francisco. They discuss her path to researching professional sports academically and dive into her work examining the economic impact of minor-league teams. They examine this winter's minor-league realignment and ponder what it could mean for cities, players, and the sport alongside discussions about where MLB teams should go from here if they prioritize winning. To keep up with Dr. Agha's work, you can follow her on Twitter @NolaAgha.
Make sure to subscribe to Sound the Foghorn to stay updated on interesting SF Giants conversations, like this week's episode with Dr. Nola Agha.
Like, follow, review, and subscribe wherever you get your podcasts. Make sure to write a question in your comment if you leave a five-star review on Apple Podcasts. It will be answered on a future episode by Marc and his guest.
Thank you for listening!
To stay up to date with the SF Giants and the Sound the Foghorn podcast, follow Around the Foghorn on Twitter (@roundthefoghorn) or Marc Delucchi (@maddelucchi). With the 2021 season around the corner and plenty of offseason left, every fan will want to stay tapped into all the latest news and rumors. Luckily, we will have it covered.