The 4 Best SF Giants Moments From 2020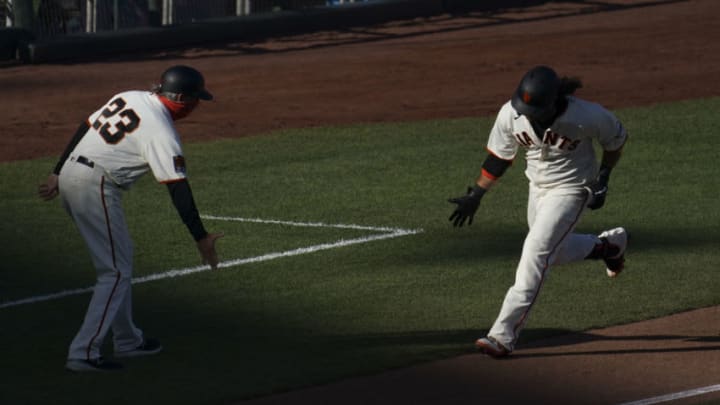 SF Giants shortstop Brandon Crawford (right) is congratulated by third base coach Ron Wotus (23) for hitting a solo home run against the San Diego Padres during the second inning of game one of a double header at Oracle Park. (Kyle Terada-USA TODAY Sports) /
Mike Yastrzemski #5 of the SF Giants hits a three-run home run in the bottom of the third inning against the Seattle Mariners at Oracle Park. (Photo by Lachlan Cunningham/Getty Images) /
The end of 2020 is finally upon us. While so much went wrong this year, let's look back at the four best SF Giants moments this season.
The SF Giants may not have reached the postseason in 2020, but no one expected that to be in the cards at the start of the year. However, given all that happened, it's hard not to feel better about the organization now than when the year began. For the first time in years, the Giants lineup was a formidable opponent that left many pitchers scratching their heads. As the farm system continues improving, things on the field are looking up.
Before we say goodbye to this year though, let's look back at the four best Giants moments in 2020:
Best 2020 SF Giants Moments:
4. Mike Yastrzemski Walk-Off Home Run vs. San Diego
There are few better stories in baseball over the last two years than Mike Yastrzemski. After a strong rookie campaign in 2019, Yastrzemski came back even better this season. While he went through a small slump towards the end, Yaz got off to an incredible start.
In their first regular-season series of the year at Oracle Park, the Giants faced off against the San Diego Padres. The Padres would finish the season with the second-best record in the National League and were an obvious contender. Yet, on July 29th, it was not Manny Machado or Fernando Tatis Jr, but Yastrzemski that carried his team to victory.
In the third inning, Yastrzemski blasted a changeup off Chris Paddack over the right-field fence to tie the game at 2. However, the following inning, the Padres would hammer Johnny Cueto and Shaun Anderson for four runs. Trailing 6-2, things looked out of reach. An Alex Dickerson solo homer cut the lead to three, but the Giants still had a long way to go.
Then, in the 8th inning, Donovan "Donnie Barrels" Solano blasted a game-tying three-run home run. After Tyler Rogers delivered a hitless top of the ninth inning, the table was set for Yastrzemski. Facing off against southpaw Matt Strahm, Yaz may not have had the platoon advantage, but that did not matter. He blasted his second homer of the day, a splash hit into McCovey Cove, that brought the Giants to 3-3 and delivered one of their best victories of the season.