SF Giants Rumor: Market for Pitching Target "Heating up"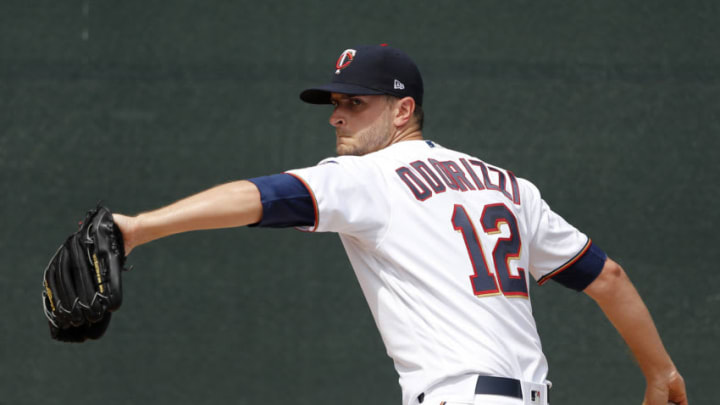 FORT MYERS, FLORIDA - FEBRUARY 26: Jake Odorizzi #12 of the Minnesota Twins warms up prior to the game against the Philadelphia Phillies at Hammond Stadium on February 26, 2020 in Fort Myers, Florida. (Photo by Michael Reaves/Getty Images) /
Jake Odorizzi #12 of the Minnesota Twins looks on against Cleveland on September 13, 2019 at Progressive Field. (Photo by Brace Hemmelgarn/Minnesota Twins/Getty Images) /
The SF Giants have been in the market for starting pitching help this winter. It appears the market for one of their reported starting pitching targets, Jake Odorizzi is beginning to heat up.
Jim Duquette of MLB Network Radio reports that the market for top free-agent starting pitcher Jake Odorizzi is beginning to take shape and that he is expected to command a multi-year deal. However, while he lists seven teams as at the top of the market, the SF Giants were omitted from the list. The Giants were connected to Odorizzi earlier this offseason.
Duquette identifies the Toronto Blue Jays, San Diego Padres, Los Angeles Angels, Minnesota Twins, New York Mets, Boston Red Sox, and Tampa Bay Rays as the teams most likely to land the righty. With that being said, there is always an opportunity for a sleeper team like the Giants to come in aggressively at the last minute.
As currently constructed, the Giants have Johnny Cueto, Kevin Gausman, and Logan Webb tabbed as the three incumbent arms to the 2021 rotation. Plus, righty Tyler Beede should return at some point next year as he recovers from Tommy John surgery. Odorizzi is a sensible target for the Giants as they look to rebuild their rotation for 2021 after letting Drew Smyly sign with Atlanta in free agency and non-tendering Tyler Anderson.
The 30-year-old had a forgettable year in 2020 as he registered a 6.59 FIP, 6.12 FIP, 1.39 WHIP, and a 20 percent strikeout rate against a five percent walk rate in only four appearances. He also missed time as he spent two separate stints on the injured list due to a chest contusion and a blister. However, he has a long track record of being a reliable starter and neither injury are believed to have a long-term impact on his career.
In nine seasons, the righty has posted a 3.92 ERA, 4.12 FIP, 1.24 WHIP, and a 22.7 percent strikeout rate against an 8.2 percent walk rate. This comes with a concerning 45.4 percent fly ball rate to go along with a less-than-ideal 0.73 GB/FB ratio that could turn off some teams who play in hitter-friendly ballparks.
While this may be a red flag for some teams, fly ball pitchers can thrive and excel in the expansive dimensions and unforgiving wind of Oracle Park. Given his age and track record, it is no surprise that Odorizzi has plenty of interest. Perhaps, teams think they might be able to reel him in on a modest discount after a rough 2020 campaign.
Furthermore, Odorizzi is an appropriate target for teams that want to plug a rotation spot without having to shop in the Trevor Bauer aisle of free agency. The Giants seem to be one of those teams.
However, they will likely need to tread in unfamiliar territory if they want to sign Odorizzi since he, per Duquette's report, is likely headed for a multi-year contract. Over the last two offseasons, San Francisco has handed out no multi-yeat pacts to a pitcher, so it would be a first in Farhan Zaidi's tenure.
It appears the SF Giants have faded from the top of the free-agent market for starting pitcher Jake Odorizzi. Still, until he finally agrees to a deal, anything could happen. According to Dan Duquette's report though, if Farhan Zaidi and co. want to swoop in, they might have to soon.