Heyman: SF Giants a "fit" for Chicago Cubs Kris Bryant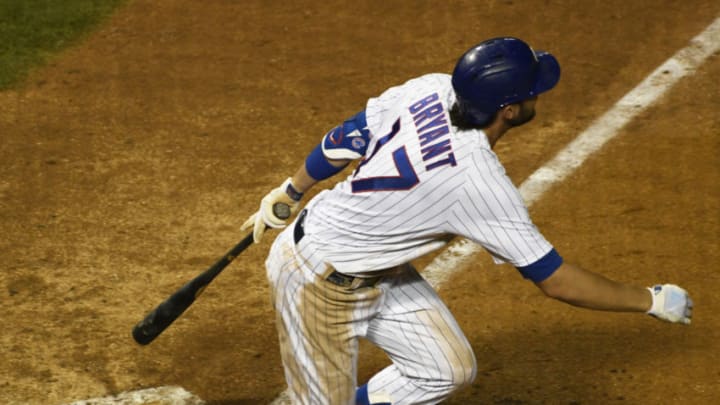 Chicago Cubs left fielder/third baseman Kris Bryant (17) hits a home run against the Kansas City Royals during the seventh inning at Wrigley Field. The SF Giants have acquired Bryant via trade. (David Banks-USA TODAY Sports) /
Chicago Cubs third baseman Kris Bryant (17) be tendered a contract, according to Jon Heyman. However, that does not eliminate the possibility of a trade. Heyman noted the SF Giants as one potential fit. (Dennis Wierzbicki-USA TODAY Sports) /
Jon Heyman reported the Chicago Cubs will tender Kris Bryant, but lists the SF Giants as a potential fit for a trade. How could he fit in San Francisco?
While the MLB offseason has been slow thus far, things should pick up this week. Every team must decide to tender or non-tender all arbitration-eligible players by Wednesday of this week. The deadline is expected to create a robust trade market and send more players to the free-agent market. One of the most speculated about non-tender decisions surrounded Chicago Cubs third baseman Kris Bryant.
As Cubs ownership has emphasized cutting payroll and Bryant's estimated salary through arbitration approached $20 million, it seemed like he could be on the chopping block. However, MLB Network's Jon Heyman reported on Monday that the Cubs will be tendering him a contract. However, he says he remains a top trade target of the Washington Nationals and that he fits the SF Giants, Toronto Blue Jays, and New York Mets.
The Giants are considered one of the few teams prepared to be relatively aggressive this offseason. With decreases in revenues caused by the COVID-19 pandemic, many ownership groups are using the situation to justify spending cuts. Since fewer teams are expected to take on salary, the few that might are likely to be connected with any players on large contracts. Even when a move seems highly unlikely.
Heyman could very well be working off sources hinting at the Giants interest, but to call them a fit at this point seems difficult to envision. A career third baseman, Bryant plays the one position where San Francisco's current starter, Evan Longoria, is under contract through 2022. Bryant is more than six years younger than Longoria and an acquiring team could obviously inquire about a contract extension, but that adds another layer of complication.
If Bryant played a premium defensive position, things might be different. Unless the Giants could find a trade package for Longoria though, which seems unlikely given his contract, either he or Bryant would have to spend a lot of time in 2021 at second base or in left field. Bryant has big-league experience in the outfield and Longoria showed comfort on the right side of the infield on shifts throughout last season. But it's hard to envision them maintaining their strong defensive reputations at another spot.
With that said, Bryant has been one of the best hitters in baseball over his six-year career. The three-time All-Star, and 2016 National League Most Valuable Player, has a career .280/.380/.508 triple-slash and would immediately rank as the Giants most proven hitter. However, there are reasons for concern as well.
In the shortened 2020 season, Bryant dealt with a slew of injuries and played in just 34 of Chicago's 60 games. He recorded career worsts in every major offensive category and posted a lower OPS (.644) than Longoria (.722). The first below-average season of his career, Bryant is well-positioned to bounce back in 2021, but at what price would the Giants be willing to bet on it?
Giants general manager Scott Harris previously worked with the Cubs and saw Bryant's success up close. Bryant's contract will not be unreasonable in 2021 either. Of course, the Cubs are clearly not interested in just dumping his salary. If they were, they could just non-tender him. By tendering him a contract, their front-office is signaling that they can trade him for some legitimate pieces in return or are content bringing him back next season.
Is there a package of big-league contributors and/or prospects that the Giants would offer to entice the Cubs to part with the face of their franchise? They have the depth to offer a player like Austin Slater or Will Wilson without feeling too big of a hit, but given the lack of long-term control and 2020 struggles, even that feels like an overpay.
After retaining starting pitcher Kevin Gausman, the Giants starting rotation remains a far higher priority. If Giants president of baseball operations Farhan Zaidi plans to venture into the trade market for a premium player, a trade for Blake Snell, or even Pittsburgh Pirates starter Joe Musgrove would be much more in line with the team's needs.
Jon Heyman has reported that the Chicago Cubs will tender Kris Bryant a contract and that the SF Giants are one of the fits for his services if he is moved in a trade. While Heyman may be well connected in the industry, it's hard to see the Giants emerging without some other creative moves elsewhere.