SF Giants Podcast: Season Review, Rule Changes, and More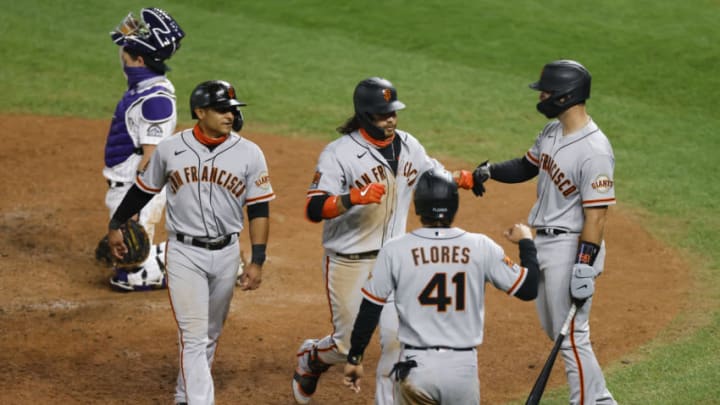 While it was partially a side-effect of the expanded playoffs, the SF Giants were competitive far deeper into the season than anyone expected. (Photo by Justin Edmonds/Getty Images) /
How the SF Giants should handle right-handed pitcher Kevin Gausman's free agency is one of many topics discussed this week on Sound the Foghorn. (Photo by Norm Hall/Getty Images). /
Around the Foghorn is happy to reintroduce our readers to Sound the Foghorn a weekly SF Giants podcast. An episode will be released every Sunday. This week, host Marc Delucchi invites his father, Michael Delucchi, aboard to chat Giants baseball.
We at Around the Foghorn are happy to finally share with you a project we have been working on for a while. Sound the Foghorn was the official Around the Foghorn SF Giants podcast from 2017-18 and we are happy to revive it with co-site expert Marc Delucchi as the host.
Make sure to subscribe wherever you get your podcasts. Every Sunday through the offseason, Marc will talk about the latest happenings around Major League Baseball and the Giants with a Rolodex of guests from around the league.
In this week's episode, Marc is joined by his father, Dr. Michael Delucchi, a lifelong die-hard Giants fan. They share their thoughts on MLB's rule changes in 2020 and review their biggest takeaways from the Giants performance on the field.
What was the Giants biggest surprise this season? What was their biggest disappointment? How did the numerous rule changes impact the game and should they continue moving forward? Should the Giants offer Kevin Gausman a qualifying offer? What are the team's biggest needs this offseason? Are the Giants heading in the right direction? They answer all of these questions and more!
We hope you enjoy the podcast and please subscribe, leave 5-star reviews, and feel free to comment your thoughts and feedback. Let us know if there are any topics you would like the podcast to address or if you have any potential guests in mind.
Thank you for listening!
Time Stamps:
0:00 – Giants Biggest Surprise (Is it sustainable?)
16:35 – Giants Biggest Disappointment
19:56 – 2020 Rule Changes (expanded playoffs, three-batter minimum, DH, doubleheaders, and extra-inning runner on second base)
33:10 – Father and son make some major proposals for MLB
43:15 – Looking Ahead to the Giants Future
To stay up to date on the SF Giants and the Sound the Foghorn podcast, follow Around the Foghorn on Twitter (@roundthefoghorn) or Marc Delucchi (@maddelucchi).