SF Giants Game Against Los Angeles Dodgers Postponed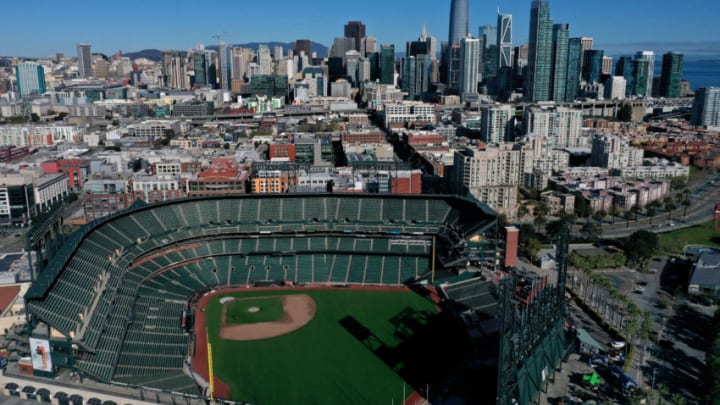 SF Giants empty Oracle Park. (Photo by Justin Sullivan/Getty Images) /
SF Giants empty Oracle Park. (Photo by Justin Sullivan/Getty Images) /
The SF Giants game on Wednesday against the Los Angeles Dodgers has been postponed.
According to ESPN MLB Insider Jeff Passan, the SF Giants home game on Wednesday against the Los Angeles Dodgers has been postponed in reaction to a wildcat strike. The game was originally scheduled to air on Wednesday Night Baseball on ESPN.
The Giants have clawed their way from the cellar of the National League West standings into the wild-card conversation. They are in the middle of a seven-game winning streak and just pulled off one of the most impressive comeback victories of the season last night in an 11-inning thriller.
However, that is the furthest thing from many people's minds at the moment. Following the attempted police homicide of Jacob Blake in Kenosha, Wisconsin, athletes around the world have begun refusing to play in the wake of the attack. A video showed Blake being shot in the back seven times by police officers. Blake is still in the hospital.
The Blake shooting comes on the heels of the police homicides of Breonna Taylor and George Floyd, which sparked global Black Lives Matter protests against white supremacy and state-sanctioned police violence.
It remains unclear whether athletes are planning to continue striking for an extended period of time, or if this is viewed as a single-day action.
The Giants-Dodgers game was not the first MLB game to not be played as scheduled. As noted by Passan, two other matchups had already been postponed (per the teams), and many players on other teams refused to play.
It's worth noting that while every player in leagues like the NBA and WNBA refused to play, MLB has been much more splintered. Some games have gone on as scheduled with only a select few members of a team sitting out. While teams have claimed to "support" those who chose to do so, there's no denying the obvious disparity in the united front of some leagues in contrast to MLB.
The SF Giants are scheduled to host the Los Angeles Dodgers tomorrow at 2:05pm PST.