Giants' All-Time ERA leaders feature some surprises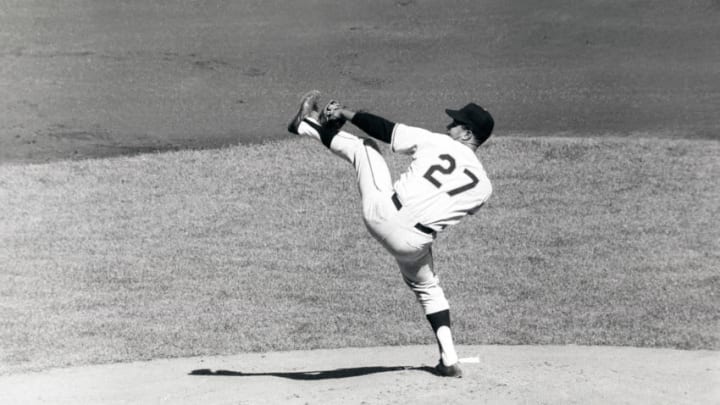 Pitcher Juan Marichal of the San Francisco Giants pitches during the 1962 World Series. (Photo by Herb Scharfman/Sports Imagery/Getty Images) /
The Giants have featured some great pitchers during their history.
From Christy Mathewson to Juan Marichal to Madison Bumgarner, the New York/San Francisco Giants franchise has featured some of the best pitchers of their era and all-time.  Yet if you look through a list of ERA leaders, you might find yourself a bit surprised at times.
Today, we grabbed lists of the Giants top pitchers, ranked by ERA and by fWAR, for both all-time and since 2020.
It's no surprise to see Hall of Famer Christy Mathewson atop the list, with a 2.12 ERA for his career. But it's amazing to see just it compared to others in franchise history. He posted about 90 WAR from 1900-1915. Yet Juan Marichal, for instance, is second in franchise history in WAR with just 60.6 WAR from 1960-1973.
The difference? Innings. Mathewson threw nearly 4800 of them, while Marichal, who didn't even make the top-10 list in ERA with 2.84, came in at "just" 3443.
NY/SF Giants All-Time ERA leaders
Christy Mathewson, 2.12
Slim Sallee, 2.26
Joe McGinnity, 2.38
Jeff Tesreau, 2.43
Red Ames, 2.45
Hooks Witse, 2.48
Pol Perritt, 2.58
Al Demaree, 2.60
Ferdie Schupp, 2.63
Bill Swift. 2.70
*min 500 innings, via FanGraphs
The chief takeaway here: you can tell how little scoring occurred in baseball before 1920. However, Bill Swift, who pitched for a couple of years in the '90s for the Giants, did crack the top 10 list. In his first season in San Francisco, 1992, he led the NL with a 2.08 ERA. He slid a bit by his third and final year in SF, but still posted a pretty solid 3.38 ERA.
NY/SF Giants All-Time Pitching WAR leaders
Christy Mathewson, 90
Juan Marichal, 60.6
Carl Hubbell, 56.5
Amos Rusie, 44.6
Gaylord Perry, 41.5
Madison Bumgarner, 31.3
Red Ames, 30.9
Tim Lincecum, 28.2
Matt Cain, 28.1
Hooks Wiltse, 27.1
*min 500 innings, via FanGraphs
"SF Giants: Why it's good the 2020 season may be limited to 50 games"
A lot of those earlier stars remain when you look at WAR, a combination of pitching really great and logging a lot of innings on the mound while you do it. Skip ahead a few years, and you see some recognizable names from the present: Bumgarner, Tim Lincecum, and Matt Cain.
Santiago Casilla #46 of the San Francisco Giants celebrates. (Photo by Jason O. Watson/Getty Images) /
SF Giants ERA leaders since 2000
Santiago Casilla, 2.42
Javier Lopez, 2.47
Sergio Romo, 2.58
Felix Rodriguez, 2.91
George Kontos, 3.05
Jeremy Affeldt, 3.06
Madison Bumgarner, 3.13
Brian Wilson, 3.21
Jason Schmidt, 3.36
Johnny Cueto, 3.51
*minimum 250 innings, via FanGraphs
It shouldn't be a big surprise to see the Giants' leader here is Santiago Casilla. Relievers tend to come in for short periods and certain ones can really dominate.
It takes until seventh on the list, Madison Bumgarner, to get a starter, followed by Jason Schmidt and Johnny Cueto, two more.
SF Giants pitching WAR leaders since 2000
Madison Bumgarner, 31.3
Tim Lincecum, 28.2
Matt Cain, 28.1
Jason Schmidt, 26.1
Livan Hernandez, 9.6
Russ Ortiz, 8.8
Sergio Romo, 8.6
Jonathan Sanchez, 7.7
Noah Lowry, 7.6
Jeff Samardzija, 7.3
*minimum 250 innings, via FanGraphs
The starting pitchers take over here, it's no surprise to see Madison Bumgarner at the top.
And what a difference between the first couple and the last few. Jeff Samardzija, at 7.3, finished 10th.