SF Giants news: Team will continue paying baseball ops, but gameday staff laid off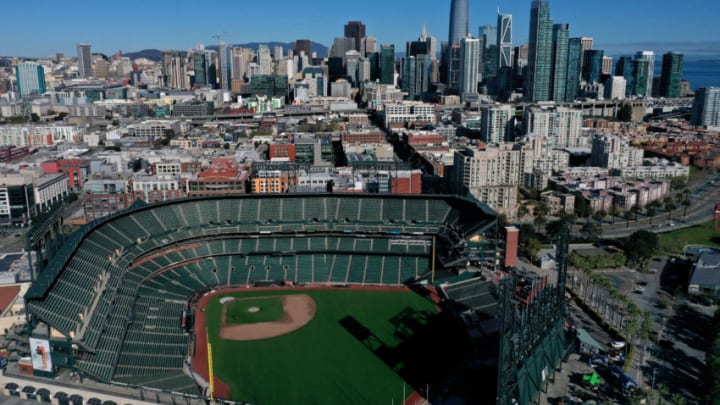 SF Giants empty Oracle Park. (Photo by Justin Sullivan/Getty Images) /
Major League Baseball will allow teams to begin laying off non-player personnel beginning May 1, but the Giants plan to continue paying their baseball operations staff.
MLB commissioner Rob Manfred suspended the uniform employee contract on Monday. Doing so allows teams to furlough staff, including both major and minor league managers, as well as coaches, trainers, scouts and, in some instances, general managers.
About 9000 people are covered under the contract, ESPN notes.
ESPN's Jeff Passan wrote that the Giants are among 20 teams that have already pledged to continue paying their baseball operations people through the month of May.
However, not everyone may be guaranteed pay. The Mercury News reports the Giants have laid off 1200, though the story has no extra info included.
Update from SFGate: The Giants responded to a question for information:
""This represents event-based employees, such as ushers who generally have no work unless there is a game or event at the ballpark," Slaughter said. "In addition to state and federal unemployment benefits, the Giants are providing supplemental payments and relief grants to these employees while our season is on hold.""
Could Barry Bonds make the Hall of Fame in light of the MLB shutdown?
Well, probably not.
But Henry Schulman of the Chronicle was asked the question for his mailbag on Monday.
Schulman's response was a slightly wordier one that reached the same conclusion.
"I imagine a few writers with changed perspectives after the crisis might be more forgiving of Bonds' transgressions, but not enough to sway an election that will occur seven months hence, when life should be closer to normal."
More from Around the Foghorn
Keeping the Giants' Oracle Park at its best
NBC Sports Bay Area had a nice feature about how the grounds crew keeps Oracle Park's grass so nice. It's worth a read.
One thing of interest: Head groundskeeper Greg Elliot told NBCBA that one reason there are no special designs or logos cut into the outfield because they want to make it as nice as they can for the players.
"The ball doesn't snake in our park as much. I'm sure it happens, but it doesn't happen as often," he said.
The other is keeping the field in the spirit of the Polo Grounds in New York, where the grass would have been cut by pull cart.
Even though there's no baseball, and even if the sport returns it appears it may not return to California at all in 2020, the crew cuts the grass every Monday, Wednesday, and Friday, with managers visiting in between to spray fertilizer.
Hunter Pence's Tuesday schedule in MLB The Show
Hunter Pence's pixel Giants have just three games in Tuesday's schedule. They'll be facing Dave Dahl's Colorado Rockies (4-11), Tommy Kahnle's Yankees (8-7), and Eduardo Rodriguez's Red Sox (2-10).
You can watch via Pence's Twitch channel at 6 p.m. PT.