SF Giants news: Willie Mays named No. 1 MLB player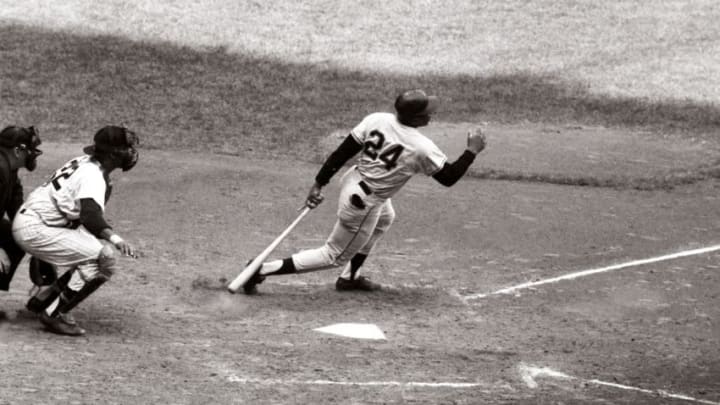 Willie Mays of the SF Giants bats against the New York Yankees in the 1962 World Series. (Photo by Herb Scharfman/Sports Imagery/Getty Images) /
New York/San Francisco Giants great Willie Mays picked up another laurel on Monday: Jon Posnanski of The Athletic named him the greatest MLB player in history (subscription required).
The notoriously longwinded baseball columnist has been counting down his 100 greatest baseball players series since December. By his own admission, the project surpassed 280,000 words.
Mays has earned his position atop the list. (Longtime JoePos readers may not be surprised by this; after all, he did create the Willie Mays Hall of Fame a few years ago. The only inductee was … Willie Mays.)
We don't really need to list off Mays' accomplishments here to know how good he was, but let's do it anyway.
He was elected to the Hall of Fame in 1979 with 94.7 percent of the vote. The other 5.3 percent of voters probably had some reason for not listing his name on their ballots, but they certainly couldn't have been all of that of ones.
He was named an All-Star 24 times (remember that a couple of those were twice in the same season, because that's how MLB used to do its All-Star Games).
He was the NL Rookie of the Year, Major League Player of the Year, NL MVP on two occasions.
He earned 12 Gold Gloves.
For the more sabermetrically minded, between 1954 and 1964, he led the NL in WAR nine times. He finished second in WAR twice during that span and surpassed 10 WAR on six occasions.
Maybe he didn't have the highest WAR — he ranks fifth at Baseball-Reference, just behind his godson, Barry Bonds — but, to Posnanski, Willie Mays is baseball.
Giants' Willie Mays' greatest play?
It can't be encapsulated in one play, but one should quickly come to mind.
While a member of the New York Giants in the World Series in 1954, Mays made one of the most iconic plays in baseball history. If you say "The Catch," people will know what you're talking about.
With the scored tied at 2-2, Cleveland Indian Vic Wertz hit what was seemingly a game (and maybe series) changing ball off reliever Don Liddle. Mays turned and ran, and ran, and ran.
We all know the result, as he caught the ball over his shoulder at the centerfield wall.