Connor Joe the Latest Giants Left Field Experiment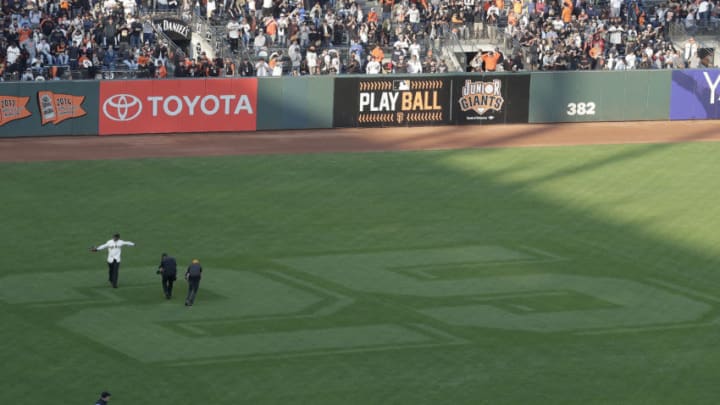 SAN FRANCISCO, CA - AUGUST 11: Former San Francisco Giants player Barry Bonds, left, waves to fans as he takes left field after a ceremony to retire his number 25 jersey at AT&T Park on August 11, 2018 in San Francisco, California. (Photo by Jeff Chiu/Pool via Getty Images) /
The San Francisco Giants have had a whale of a time finding Barry Bonds replacement in left field.
Opening day is here, and once again, the San Francisco Giants will start a new left fielder in 2019. Bonds stopped playing after the 2007 season, and since then, the Giants have had a different starter in left every season.
The list is a who's who of "oh yeah, he played left."
Dave Roberts, Fred Lewis, Mark DeRosa, Pat Burrell, Aubrey Huff, Andres Torres, Mike Morse, Nori Aoki, Angel Pagan, Jarrett Parker, Hunter Pence and now Connor Joe.
The last time a left fielder played back to back opening days not named Bonds was Kevin Mitchell, who played left from 1989-1991. Three straight seasons.
Mike Felder started opening day in 1992 and Pedro Feliz started in left in 2005, when Bonds was hurt to begin the season. The other 14 opening days were started by Bonds.
Not only might we never see that kind of consistency again, but we might not see back to back seasons again for a while either.
Joe is not an every day left fielder. In the new era of position flexibility, Joe made the Giants primarily for his versatility. He can play left field, but he can play multiple positions. In 2019, we may see Yangervis Solarte, Michael Reed, Gerardo Parra, Brandon Belt, Pablo Sandoval and more trotted out to left field.
Mac Williamson, who was recently designated for assignment, seemed like the likely every day left fielder when Spring Training began, but a rough spring and a recent hand injury made it hard to justify keeping the long time Giant.
Everyone from Melky Cabrera to Cory Gearrin has had time in left. Chris Shaw and Austin Slater, both starting the year in Triple-A Sacramento, could also get time there in 2019.
And, there is always the possibility that the most successful left fielder this season is someone who president of baseball operations, Farhan Zaidi, has yet to trade for. Or, it could be someone who Zaidi has already traded for, who ascends through the minor league ranks, like Mike Yastrzemski, the grandson of legendary outfielder Carl Yastrzemski.
One of the most uncertain position in sports continues to be who plays left field for the Giants at Oracle Park. Let the tradition of the baseball season begin.