San Francisco Giants: 3 Stats That Show Bryce Harper's Potential Impact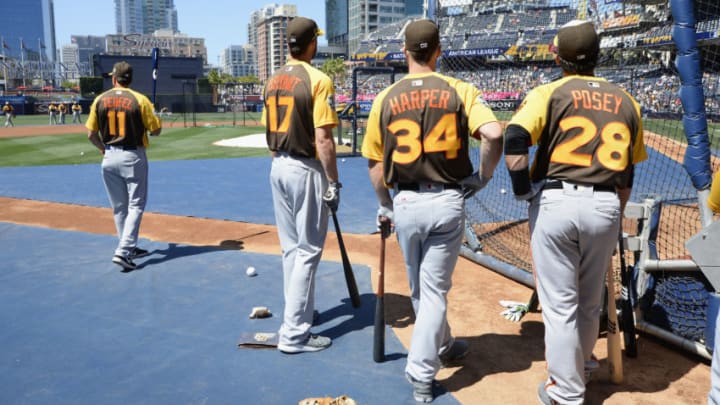 SAN DIEGO, CA - JULY 12: Kris Bryant #17 of the Chicago Cubs, Bryce Harper #34 of the Washington Nationals and Buster Posey #28 of the San Francisco Giants warm up prior to the 87th Annual MLB All-Star Game at PETCO Park on July 12, 2016 in San Diego, California. (Photo by Denis Poroy/Getty Images) /
SAN DIEGO, CA – JULY 12: Kris Bryant #17 of the Chicago Cubs, Bryce Harper #34 of the Washington Nationals and Buster Posey #28 of the San Francisco Giants warm up prior to the 87th Annual MLB All-Star Game at PETCO Park on July 12, 2016 in San Diego, California. (Photo by Denis Poroy/Getty Images) /
The San Francisco Giants are rumored to be near the top of the list when it comes to the Bryce Harper Sweepstakes. So here are 5 stats that show Bryce Harper's potential impact on the Giants.
I don't know how else to say it, but the San Francisco Giants have to do whatever it takes to bring Bryce Harper to the bay.
He is a superstar that commands that people pay attention to him through his play on the field. His mere presence in the lineup takes away just a little attention that was being paid to everyone else, and there is intangibles everywhere that happen, simply by putting Bryce Harper in a lineup 150 times during a season. There is no denying that if there was one singular acquisition that could turn the Giants fortune at the plate around, he's the one who would do it.
In 2018, the Giants lost only 20 games when scoring 4 runs or more. They played in 72 such games. So 52-20 in games where they scored more than 4 runs. However, they scored less than that 90 times, going 21-69. They averaged 3.69 runs per game in 2018.
Severe offensive issues clearly were the plague of the Giants, as their pitching was good enough to keep them in ballgames. They allowed more than 4 runs 87 times, which is in just over half their games. However, they usually never let them get entirely out of hand. In only 46 of those games were opponents scoring 6 or more runs. So truly, the Giants' offensive issues were the death of them in 2018. So here are five stats that show how inserting Bryce Harper into that lineup could almost singlehandedly turn around the Giants' fortunes at the plate.