San Francisco Giants: Can't Hit for Pitching in Loss to Dodgers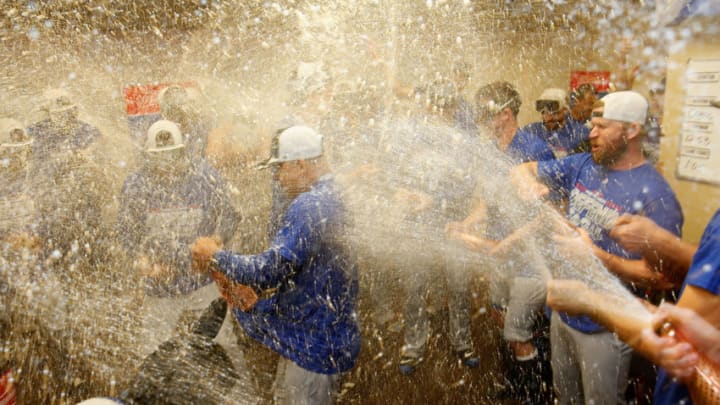 SAN FRANCISCO, CA - SEPTEMBER 29: Manager Dave Roberts #30 of the Los Angeles Dodgers is sprayed with champagne as Dodgers players celebrate after clinching a post season spot by defeating the San Francisco Giants at AT&T Park on September 29, 2018 in San Francisco, California. (Photo by Lachlan Cunningham/Getty Images) /
The San Francisco Giants finally put some runs on the board against the Dodgers Saturday, but the pitching fell apart in another tough loss.
I've watched a lot of bad teams over the years, and the one similarity through the years is that when you hit, you can't pitch, and when you pitch, you can't hit. That certainly seems to be the case for the San Francisco Giants lately.
More often than not in the second half it has been the pitching that has done it's job, while the offense has failed.
But on Saturday, it was the other way around.
The San Francisco Giants scored six runs against Clayton Kershaw and the Dodgers pitching staff, but the Giants surrendered 10 runs in another excruciating loss.
Things were looking great as the offense put up three runs in the first three innings against Kershaw, taking a 3-1 lead into the fourth.
But Dereck Rodriguez ended a wonderful rookie season on a bad note giving up three runs in the fourth and five overall exiting after just three-plus innings.
The San Francisco Giants showed some heart in the fifth when Hunter Pence doubled in a run and later scored on a sacrifice fly to tie the game up at five.
They made Kershaw work on Saturday getting him for five runs over five innings pitched on eight hits with just four strikeouts.
But then the Giants bullpen looked like it's first-half self, giving up a single run in the eighth and then piling it on with four more in the ninth.
Will Smith came on to get the last out in the eighth, but then appeared to run out of gas in the ninth as he was unable to get the third out. All of the Dodgers runs in the ninth came with two outs.
That became highly unfortunate as the Giants actually pushed across a run in the bottom of the ninth off Kenley Jansen.
As it is, the Giants failed to ruin the Dodgers season. Los Angeles has now clinched a postseason birth, and will likely have a chance to win the division — or at least tie — on Sunday.