San Francisco Giants: 6 Intriguing Picks from the 2018 Draft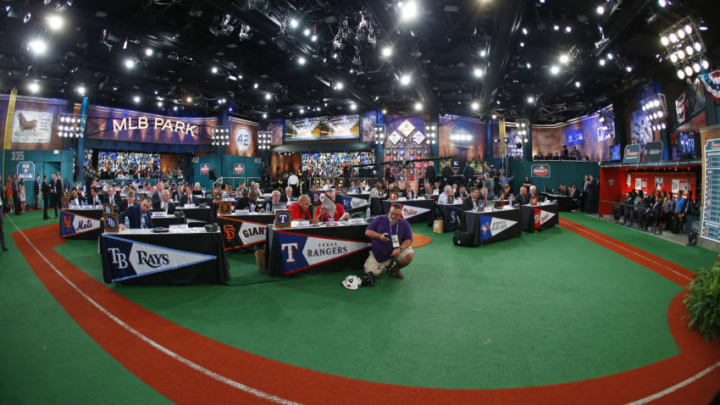 SECAUCUS, NJ - JUNE 5: Representatives from all 30 Major League Baseball teams fill Studio 42 during the MLB First-Year Player Draft at the MLB Network Studio on June 5, 2014 in Secacucus, New Jersey. (Photo by Rich Schultz/Getty Images) /
SECAUCUS, NJ – JUNE 5: Commissioner Allan H. Bud Selig at the podium during the MLB First-Year Player Draft at the MLB Network Studio on June 5, 2014 in Secacucus, New Jersey. (Photo by Rich Schultz/Getty Images) /
Number 6: Ben Strahm, RHP, Round 23
Ben Strahm is a tall pitcher out of Northeastern State University in North Dakota. He spent two years at Cowley College in Arkansas City, Kan. There he went 4-1 with a 2.89 ERA in his freshman year, and followed it up with a 8-3 record and 2.31 ERA his second season.
Strahm then transferred to Northeastern State University, and had a solid campaign, striking out 64 in 62.2 innings. He finished the season with a 4.16 despite a hot start, including back to back games with ten strikeouts.
Strahm is the younger brother of former Royals, and current Padres pitcher, Matt Strahm. He stands at 6'5″, 210lbs and has a good fastball. His future is likely that of a reliever, but he does have some big league blood in him.
Number 5: Ryan McDonald, RHP, Round 37
McDonald is one of many, many community college picks. He's from the College of Southern Nevada in Henderson. He was injured for a solid month this year, but his numbers are pretty nice. In 39 innings he struck out 45, and posted a 1.62 ERA and 1.10 WHIP. He's 6'7″ and has a booming fastball.
What's more intriguing about McDonald is that he was the topic of debate in High-school. The South Carolina native decided to skip High School baseball his sophomore year, with a commitment to West Virginia in tow. He decided to take on extra work to finish studying Chinese. After one year at West Virginia, where he didn't perform all that well, he made the move to CSN.