San Francisco Giants: 6 Intriguing Picks from the 2018 Draft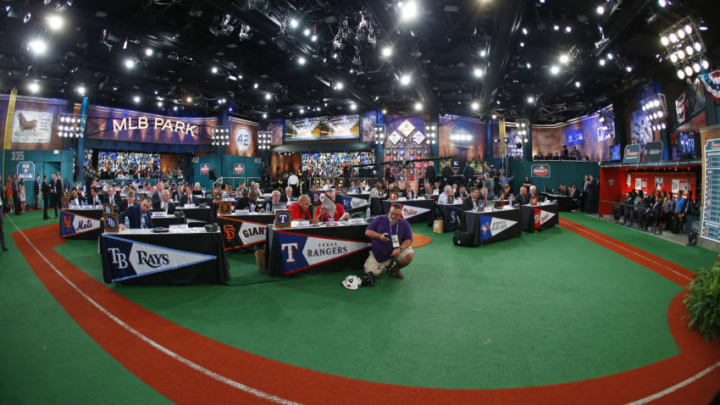 SECAUCUS, NJ - JUNE 5: Representatives from all 30 Major League Baseball teams fill Studio 42 during the MLB First-Year Player Draft at the MLB Network Studio on June 5, 2014 in Secacucus, New Jersey. (Photo by Rich Schultz/Getty Images) /
SECAUCUS, NJ – JUNE 5: Representatives from all 30 Major League Baseball teams fill Studio 42 during the MLB First-Year Player Draft at the MLB Network Studio on June 5, 2014 in Secacucus, New Jersey. (Photo by Rich Schultz/Getty Images) /
Last Week, the San Francisco Giants got started on their farm system re-stock in the 2018 MLB Draft. Joey Bart was the big prize, but plenty of others got picked.
The San Francisco Giants had a solid draft in 2018. They had the second pick of every single round, and have accumulated a serious amount of intriguing prospects. We're going to look at 10 of the most intriguing ones, in no particular order.
They held the second pick of the draft thanks to Pablo Sandoval's game 162 heroics. The Tigers took over the first pick in the draft with his walk-off home run, keeping the number one pick away from the Giants.
But would that have mattered? Some would argue the Giants might have taken Joey Bart first overall even if they had that pick. Others choose to think Pablo cost the Giants a shot at Casey Mize.
But enough about what could've been, and more about what actually is. Joey Bart is clearly the most well known of the Giants draft picks. It's not intriguing in any way, shape, or form. So we're not going to talk a whole lot about him. We'll have plenty on him later.
We want to look at guys drafted on day two and three. People that most didn't even know got drafted. Guys who weren't talked about on National T.V, yet still have as much upside, and a chance to make this their career. Without much more to say, here are our ten most intriguing Giants draft picks from the 2018 MLB Draft.