San Francisco Giants Head to Windy City to Take on the Cubs: Series Preview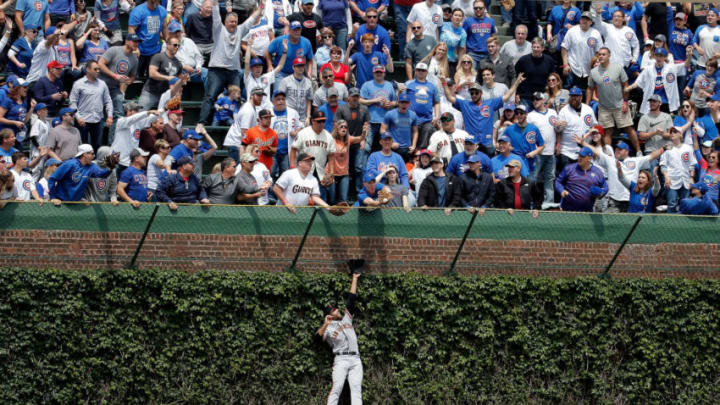 CHICAGO, IL - MAY 25: Mac Williamson #51 of the San Francisco Giants leaps in to the ivy to in an attempt to make a catch as fans reach for the home run ball of Kris Bryant #17 of the Chicago Cubs (not pictured) during the first inning at Wrigley Field on May 25, 2017 in Chicago, Illinois. (Photo by Jon Durr/Getty Images) /
SAN FRANCISCO, CA – APRIL 09: Derek Holland #45 of the San Francisco Giants pitches against the Arizona Diamondbacks during the first inning at AT&T Park on April 9, 2018 in San Francisco, California. (Photo by Jason O. Watson/Getty Images) /
Game 1: Friday, 11:20 AM PT, Kyle Hendricks vs. Derek Holland
This matchup is going to be very intriguing. Holland has pitched well in his last couple starts, despite going 1-2. He has had a 3.63 ERA and 13K's over that period. Hendricks frankly isn't doing a whole lot better, with just a 3.79 ERA and 15K's.
Belt is the Giants best hitter against Hendricks though, and after that it's not all that hot. Granted, Hendricks is pitching below his Cy-Young level season from 2016. A very similar regression to the mean that Alex Wood has experienced this season. If the Giants can be patient (good luck) they have a decent shot at getting to Hendricks.
On the flip side, Holland has only faced Anthony Rizzo and Jason Heyward in his career, so the unfamiliarity for the Cubs could potentially bode well for the Giants. If Holland can keep the ball in the ballpark, the Giants might have a shot on Friday night.
This matchup brings two pitchers who are on opposite "form" arcs. Stratton hasn't been great in his last three starts despite a winning record. His ERA is a 7.36 with 9K's in those starts. Quintana on the flip side has a 3.57 ERA with 18K's over his last three.
Quintana is a guy that pitches for the strikeout and that means the Giants are going to need to be selective. He gets into trouble though when his command is off, and he starts walking people. He will throw a ton of pitches to strike guys out, so if I'm the Giants, I'm playing the patience game again. The Giants have hit him hard over their experiences with him, as seven hitters have a .333 average or higher against him. Ownage is ownage.
Stratton on the flipside just needs to keep the ball in the park, and runners off the basepaths. Much like Derek Holland, he has the unfamiliarity thing working in his favor, as none of the Cubs have ever faced Stratton in their career. If he can start locating the fastball low, and then mix in the Change and Curve, he'll be fine against a very free swinging, against the 25-21 Cubs.
Game 3: Sunday, 5:08 PM PT, Yu Darvish vs. Ty Blach
Blach hasn't been much better than Stratton in his last three starts. He's posted a 7.11 ERA with only 5K's over that time period. Blach doesn't get guys to swing and miss, so he needs to keep the ball down. If the Giants can get a good 12 innings out of their starters the previous days, they'll be fine. But if he struggles, and the bullpen is taxed, Sunday could be a looooong day. Yu Darvish is pitching opposite of him and he hasn't looked "Darvish like." He's struck out 20 over his last three starts, but his ERA is in the mid fours.
The Giants don't have great numbers against Darvish, and that concerns me a bit for the third and final game of the series. A guy whose struggled, against a guy who can mow right through Giants hitters. We'll have to see just what happens.
The Cubs, of course, have hit Blach pretty hard in his time pitching against them. He's got his work cut out for him, that's for sure.