San Francisco Giants Head to Windy City to Take on the Cubs: Series Preview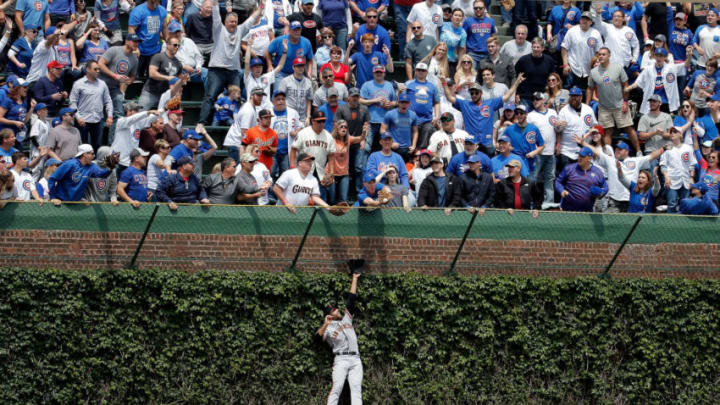 CHICAGO, IL - MAY 25: Mac Williamson #51 of the San Francisco Giants leaps in to the ivy to in an attempt to make a catch as fans reach for the home run ball of Kris Bryant #17 of the Chicago Cubs (not pictured) during the first inning at Wrigley Field on May 25, 2017 in Chicago, Illinois. (Photo by Jon Durr/Getty Images) /
CHICAGO, IL – MAY 25: Mac Williamson #51 of the San Francisco Giants leaps in to the ivy to in an attempt to make a catch as fans reach for the home run ball of Kris Bryant #17 of the Chicago Cubs (not pictured) during the first inning at Wrigley Field on May 25, 2017 in Chicago, Illinois. (Photo by Jon Durr/Getty Images) /
The San Francisco Giants are headed to the NorthSide of Chicago to take on the Chicago Cubs at the historic Wrigley Field. We'll break down the series, a few players to watch, and what we expect to happen.
If you didn't know that Wrigley Field is on the North Side of Chicago, then now you know. The San Francisco Giants will be on the North Side this weekend.
There is a huge difference between the Northside and the Southside of Chicago. I'm not going to dive into the geopolitics of the Chicago regions (yes regions, because it's flipping massive). But one of the biggest differences between the two is their hot-dog toppings.
Oh yes. That's a thing. Anyways, if you happen to be in Chicago, go get a big fat hot dog from Wrigley. It's the best choice you'll make all weekend outside of visiting Portillos (You absolutely must do that as well, and you have to go all out. Cake shake and all). Alright. Enough about food. Let's get on to the baseball field.
The Giants will have a couple of interesting matchups, on the mound, but the biggest story for them is the return of our lord and savior, Mac Williamson. Williamson hits a lot of homers and is a very good outfielder. I expect him in the lineup tonight as he had an off-day yesterday with Sacramento.
That could potentially be a shot in the arm, especially with how bad the offense was in Houston. Williamson will be looking to deposit baseballs onto Waveland Avenue, and that will be a hell of a sight. Alright. Pitching Matchups!