San Francisco Giants Look to Continue Momentum Against Padres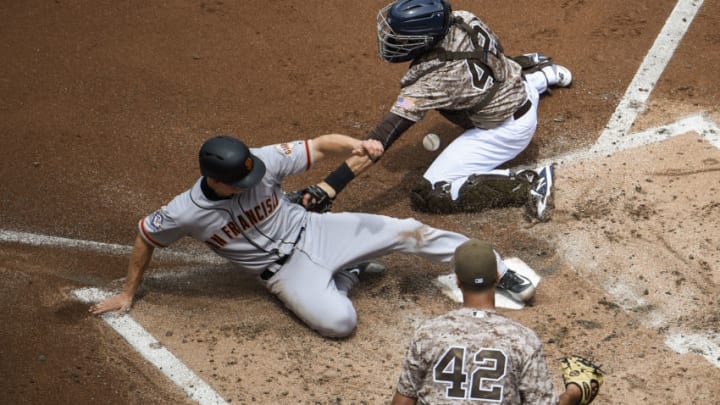 SAN DIEGO, CA - APRIL 15: Nick Hundley #5 of the San Francisco Giants, (L) scores ahead of the tag of Austin Hedges #18 of the San Diego Padres, (R) as Joey Lucchesi looks on during the second inning of a baseball game at PETCO Park on April 15, 2018 in San Diego, California. All players are wearing #42 in honor of Jackie Robinson Day. (Photo by Denis Poroy/Getty Images) /
No matter how you count the doubleheader, the San Francisco Giants had a good weekend against the Los Angeles Dodgers.
As if taking three-out-of-four games wasn't enough, the Giants now sit in third place. The Giants have another NL West opponent coming to town before their east coast road trip.
The San Diego Padres continue their annual tradition of being one of the worst teams in baseball.
In fairness, next to the Texas Rangers, they're really the best of the worst. This doesn't mean the Giants can simply waltz through this series. Let us not forget that the Padres took three-of-four from the Giants a few weekends ago.
However, with the hot bats of Brandon Belt and Evan Longoria, they should be a bit more formidable on offense.
The Padres are also bringing their own brand of offense, with power-hitting Christian Villanueva and veteran Eric Hosmer.
The Giants should be thankful they don't have to face Wil Myers, who is on the 10-day DL with an oblique strain.
Still, the Giants need to keep up what they're doing on the field and the mound, and the rest should fall into place.
Let's take a look at the matchups…
Game One: A Familiar Face vs. A Fresh Face
Jeff Samardzija makes his third start of the season, looking to improve on his shaky start against the Nationals on Wednesday. The Padres' hitters that give him the most trouble haven't exactly been hot this season, other than Hosmer.
For the Giants, this is the first time they see Eric Lauer. He got tattooed against the Rockies last Tuesday, going only three innings while giving up seven runs. His fastball is apparently a work of deception, but the lefty had some control issues as 59.5 percent of his pitches were strikes, and he walked four last week. A righty-heavy lineup should feast against him.
Game Two: The Return of Suarez
You would think the Giants should have no problems figuring out the bottom of their rotation, but a few candidates still need more time to cook. Andrew Suarez is tasked with shoring up the rotation after a doubleheader. Although he gave up four runs in his MLB debut, he struck out seven and lasted 5 1/3 innings. This is the first time the Padres are facing Suarez, which I'd say is a good thing.
Tyson Ross on the other hand has seen a lot of the Giants, and for the most part has no trouble against them. The only hitter that has real "ownage" on him is Brandon Belt. With Belt being as hot as he is, I expect him to turn up the heat against Ross.
Game Three: Holland vs. Richard, Part Deux
While not a marquee matchup, this game will be determined by which pitcher blinks the least. On April 14th, it was a real draw between the two in their first matchup of the season. Derek Holland is still winless, but hopes to turn that around in May. He'll need to do so against Hosmer and Villanueva, both hitters who have his number.
On the other side is Clayton Richard, who has not faired much better this season. While he does have one win this season, it's not like he's been relatively dominant. The Giants have plenty of history against him too. Evan Longoria and Buster Posey each have a home run credited to Richard, and Andrew McCutchen has two. I can say, without any considerable doubt, that this should be an offensive afternoon affair.
In summation…
If I can be brutally honest, this is going to come down to which starting rotation chokes the least. Unsurprisingly, the Giants are facing two of the Padres top three starters. Really though, you could get better rotations on the tea cups ride at Disneyland. As much as I joke though, it's not like the Padres are a total pushover. The Giants will need to focus and not play down to their opponent like they so often have in recent years.
Of course, the Giants' starters could totally surprise me. Everything is pretty much in the Giants favor for this one, and if they pull off a series win, it will be their fourth straight. The Giants can also get their first winning record in April since 2014. I see this series going the Giants way, taking two-out-of-three games.