San Francisco Giants: Winter Meetings Day 2 Recap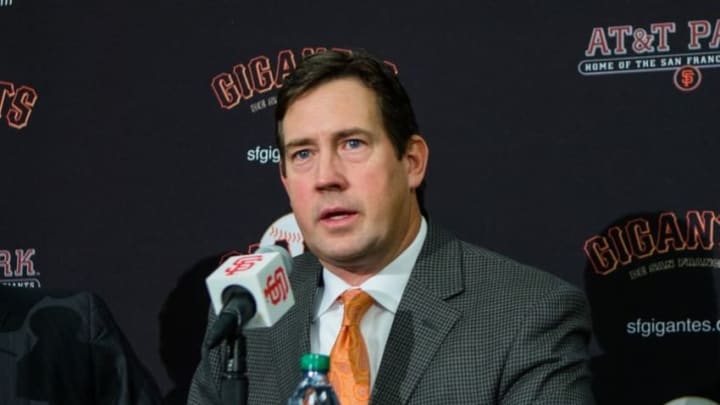 Dec 17, 2015; San Francisco, CA, USA; San Francisco Giants senior vice president and general manager Bobby Evans announces the signing of pitcher Johnny Cueto at a press conference at AT&T Park. Mandatory Credit: John Hefti-USA TODAY Sports /
With the heavy lifting finished for the San Francisco Giants, Bobby Evans lays out his plan for the remainder of free agency.  Plus, the Giants signed minor league depth for the bullpen.
The San Francisco Giants are in agreement to a minor league contract with LHP Michael Roth, from the Texas Rangers' AAA affiliate.
Roth over his minor league career is 37-26 with a 3.61 ERA in 511.2 innings pitched, while striking out 320 mostly as a starter.  His numbers in the MLB aren't as flattering- only going 2-1 with a 8.50 ERA, with 29 strikeouts in 36 innings pitched mostly out of relief.
Not the huge splash Giants' fans were hoping for, but more of the kind of deals to be expected for the remainder of the Winter Meetings and possibly free agency as a whole
Since the news broke Monday morning of the San Francisco Giants signing Mark Melancon to a four-year deal worth $62 million, the hot stove the Giants ignited has begun to cool off.
This can be somewhat expected as Bobby Evans came out yesterday clarifying the team's plans going forward.  Don't expect the club to make any noise in the free-agent market, despite holes in the outfield that still remain.
More from SF Giants News
Bobby Evans spoke to MLB Network and CSN Bay Area's Alex Pavlovic yesterday shortly after Melancon's signing and reaffirmed this.  Instead of making a splash in free agency, the organization has their sites set on letting Mac Williamson and Jarrett Parker compete for the left field vacancy.  This has been their stance even as early as a week before Melancon's signing.
"They're not getting any younger and they deserve an opportunity," Evans said to CSN Bay Area's Alex Pavlovic of Parker and Wiliamson. "But we also are not going to give them the jobs. They have to come out there and earn them and there will be competition and other options."
That pretty much puts any rumor to rest that the San Francisco Giants may be pursuing free-agent outfielders to fill the void.  Bobby Evans also emphasized that although not probable, a trade would be the likeliest outcome for an upgrade.
"There may be trade scenarios or other scenarios that allow us to bring in a guy that's going to be hard to beat," Evans said to CSN Bay Area's Alex Pavlovic. "But right now we just have to give them the opportunity if nothing develops. That's really how I look at it."
This was further supported by Henry Schulman of the San Francisco Chronicle.
Evans said tonight on MLB Network radio that the Giants are looking towards the trade market for anything for left field, which narrows down the targets as well.
In other news, the San Francisco Giants are also in talks to sign RHP Bryan Morris for a non-roster bullpen invite to spring training.  Morris is a reliever previously from the Miami Marlins.  His career numbers over five years of service are 18-12 with a 2.80 ERA, with 153 strikeouts in 215 innings pitched.
His best season came in 2014 while splitting time with the Pittsburgh Pirates and Miami Marlins.  He posted a solid 1.82 ERA over 60 appearances in 64.1 innings pitched.  However, his struggle with command helped attribute to his near 2-to-1 strikeout to walk ratio (50/24).
It's hard to envision him challenging right-handed bullpen mainstays like Kontos, Strickland, or Law if acquired, but the move ensures added depth with a quality reliever.
Tyler Beede and Christian Arroyo will both be invited to major league camp with opportunities to compete for a job.  It is expected that both players will end up at AAA to start the season, and Arroyo, the San Francisco Giants' top prospect, will play majority games at third.
— Larry Baer, CEO of the San Francisco Giants, confirmed reports today that the club will be over the $200 million luxury-tax threshold, according the CSN Bay Area's Alex Pavlovic.
— Brandon Crawford, Johnny Cueto, and Albert Suarez will join Buster Posey to represent their countries in the World Baseball Classic this March.  Cueto will join team Dominican Republic, while Suarez will play for team Venezuela.  Suarez will be managed by former Giant Omar Vizquel, which will be a cool sight.  Brandon Crawford will of course represent team USA alongside Posey.
— Bill Hayes, formerly first base coach for the San Francisco Giants, will return to the coaching staff next season, according to Alex Pavlovic of CSN Bay Area.  His role will become more clear as details emerge in the future.
— Some news on the Giants fresh free agents include a flush and interested market for Santiago Casilla, Sergio Romo and Javier Lopez, as reported by John Shea of the San Francisco Chronicle.  Both Casilla and Romo are open to roles that include set-up relief, and Casilla is rumored to have seven clubs interested in his services.  The San Francisco Giants however have not been linked to any of the three former bullpen studs.
Next: Why Mark Melancon Was Best Fit for Giants
Stay tuned to Around the Foghorn and check back often as your source for San Francisco Giants' news and offseason rumors as they happen!