San Francisco Giants:Final All-Star Rally Needed For Trio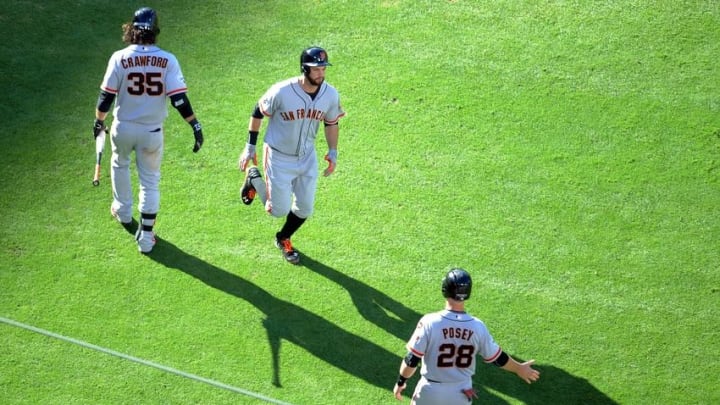 June 20, 2015; Los Angeles, CA, USA; San Francisco Giants first baseman Brandon Belt (9) is congratulated by shortstop Brandon Crawford (35) and catcher Buster Posey (28) after hitting a two run home run in the sixth inning against the Los Angeles Dodgers at Dodger Stadium. Mandatory Credit: Gary A. Vasquez-USA TODAY Sports /
The San Francisco Giants have at least five All-Star worthy candidates, three of which can be voted in. And it is time to make a statement to the league that the fans of the Giants are just like the team itself. They can, and will, rally from behind.
More from Buster Posey
The Chicago Cubs fans are using the current All-Star process of fan voting to see all of their favorite Cubs in San Diego. This doesn't only happen in baseball, but it seems to be a little more of an issue in the sport.
The process is such that a team who is on the rise, and has the resources to market their players, will stuff the ballot box (or more likely click the submit button) to show their loyalty.
The problem is that it is not a true testament to what fans should want to see. Not only does an ALL-Cubs team mean that the best players are not out on the field at the same time, but it also means that the Cubs players themselves may feel a little embarrassed.
Not that they don't appreciate the fact that they have a lot of support, but they know that there are plenty of other players who are losing millions of dollars and missing out on exposure on a grand stage.
So now, as we approach the final days of voting, it is time for the Giants fans to put their focus on voting in the players who deserve a spot.
Here is the link. You are allowed to vote five times in a 24-hour period.
The Giants players who are most deserving, based on the numbers, are catcher Buster Posey, first baseman Brandon Belt, and shortstop Brandon Crawford. Pitchers Johnny Cueto and Madison Bumgarner will probably be selected as well.
Here is the latest news on the races.
Yadier Molina leads Posey by just over 5000 votes (1,568,930 to 1,563,800). Every Giants fan knows how valuable he is, and should be an All-Star every year he is healthy. He has improved so much defensively, and it doesn't get the recognition it does.
Anthony Rizzo is up by more than a million votes (2,630,049 to 1,233,499). This doesn't mean it's impossible for him to catch up, but it will take some work. Let's do that work.
Brandon Crawford slipped to fourth among shortstops which is a travesty. Sure there are several quality hitters who play shortstop in the NL, but nobody combines that with the defense like Crawford. The position isn't all about hitting, they are supposed to save runs as well. That is what makes Crawford an All-Star.
Get out and vote for the Giants most deserving, this game could mean something to the Giants come October and the best players should decide it, not fans stuffing the ballots.