SF Giants Highlight of the Week: Dickerson's Historic Night at Coors Field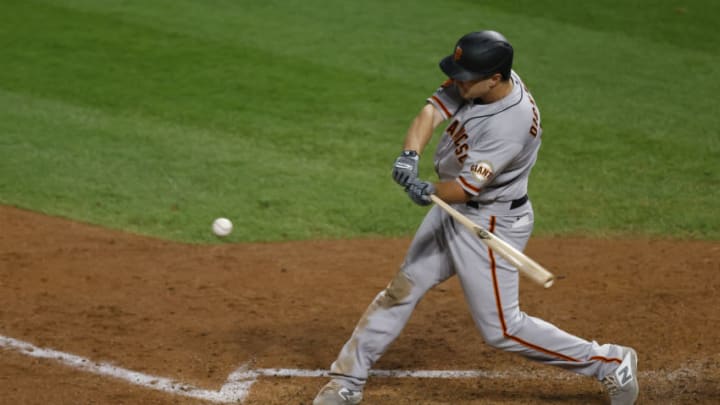 Alex Dickerson #12 of the SF Giants bats during the fifth inning against the Colorado Rockies at Coors Field on September 1, 2020. (Photo by Justin Edmonds/Getty Images) /
SF Giants outfielder Alex Dickerson had one of those nights you never forget as he blasted three home runs and collected six RBI against the Colorado Rockies earlier this week.
In that game, the SF Giants strung together one of the most impressive offensive outputs in recent memory with 27 hits and 23 runs scored.
It ended up being an overwhelming 23-5 victory against the Rockies and there were plenty of highlights that had to take the backseat to Dickerson's performance. Brandon Crawford and Donovan Solano recorded 6 RBI apiece, but Dickerson's night will stick out in Giants history.
The left-handed bat was in a rough patch before arriving at Coors Field. While the team was still confident in Dickerson, he'd slashed just a .195/.284/.351 line with 3 home runs and 12 RBI in 88 plate appearances entering the game.
He did begin to turn his season around at the end of last weekend. Dickerson strung together a pair of two-hit games against the Arizona Diamondbacks right before the series against the Rockies.
You really cannot pick a better time to heat up than right before heading to Coors Field, so Dickerson's timing was impeccable.
As soon as he arrived, he put his foot on the gas and did not let up:
Then there was this:
And then there was this:
Serious question: Who was the guy yelling after Dickerson's first home run?
The left-handed bat missed a fourth home run by just a couple of feet as he launched a double that hit hard off the top of the left-center field wall. In fact, a ball that traveled in that direction, angle, and distance would have been a home run in every other park.
Dickerson finished the night with five extra-base hits. It was the first time that ever happened in the Giants' long history.
So he accomplished something that not even Barry Bonds, Willie Mays, or Willie McCovey could say they did. I don't know about you, but if I did something that no one else in Giants history had achieved, I would include it on my email signature, add it to my LinkedIn account, and not-so-subtly mention it in every conversation I have for the rest of my life.
But, my guess is Dickerson is a more humble person.
Anyways, Dickerson had a historically great night, and one we will not soon forget. On top of this, the corner outfielder is hot at the plate again, and as we have seen in the past when Dickerson gets it going, he can carry an offense.