What Mookie Betts trade to Dodgers means for Giants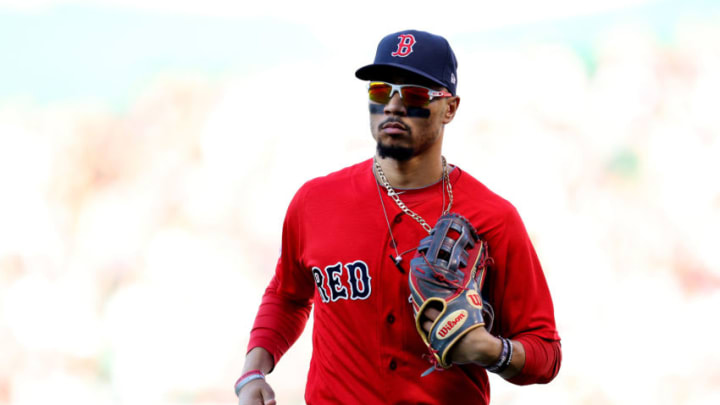 New Dodgers outfielder Mookie Betts. (Photo by Maddie Meyer/Getty Images) /
The Los Angeles Dodgers have acquired Mookie Betts in a blockbuster trade. What does that mean for the San Francisco Giants going forward?
On Tuesday night, the Los Angeles Dodgers acquired superstar Mookie Betts and high-priced veteran starter David Price from the Boston Red Sox in a three-team blockbuster trade. What does that mean for the San Francisco Giants going forward?
In case you did not already know, the Dodgers are really good.
They have won the NL West division title every year since 2013, have reached the World Series twice in the last three seasons, and have a roster that is absolutely stacked with talent. Now they add one of the best all-around players in the game in Betts.
Last season, he hit .295/.391/.524 with 29 home runs, 80 RBI and 135 runs scored in a 6.8 WAR season. That came on the heels of winning the AL MVP in 2018 when he batted .346/.438/.640 with 32 home runs and 80 RBI while leading his team to a World Series title.
Betts now joins a Dodgers outfield that already includes reigning NL MVP Cody Bellinger, another of the game's premier players. The thought of those two roaming the outfield and batting in the middle of the order for the Dodgers is enough to make any Giants fan quiver.
And while Price is certainly not at his peak, he is also a solid addition to the Dodgers. They saw him first hand in the 2018 World Series when he was able to step up against a stellar Dodgers lineup and help deliver a title for Boston.
So looking at the biggest picture, what do these additions to the Dodgers roster mean for the Giants?
In the short-term, not that much, because the Giants were not going to chase down the Dodgers in the division standings in 2020 even before the trade.
However, the trade could ultimately alter the Giants ability to compete for and win the NL West for the first time since 2012.
So let's take a look at the various ways the Betts trade could impact the Giants going forward.