San Francisco Giants: The 16 Best Moments of 2016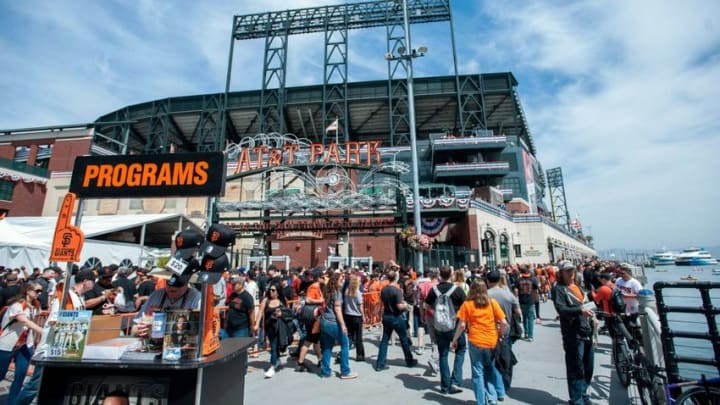 Apr 7, 2016; San Francisco, CA, USA; San Francisco Giants fans enter the park before the game against the Los Angeles Dodgers at AT&T Park. Mandatory Credit: Ed Szczepanski-USA TODAY Sports /
Jun 21, 2016; Pittsburgh, PA, USA; San Francisco Giants first baseman Brandon Belt (9) doubles against the Pittsburgh Pirates during the fourth inning at PNC Park. Mandatory Credit: Charles LeClaire-USA TODAY Sports /
No. 13: Brandon Belt Striking Out Against a Catcher
Ok, this wasn't a very good look for Belt. Weirdly enough, Belt had over 100 walks, and the most strikeouts on the team in 2016. A weird combo, for a relatively weird dude. Belt does things at the plate that make you think WTF in every way, (good, bad, baffling, etc.). There was no moment at the plate for Belt in 2016 that the Giants just have to shake their heads at.
Setting the scene: The Giants were beating the absolute snot out of the Pirates in Pittsburgh. The score was 15-4 in the eighth inning when Brandon Belt came to the plate. Belt already had two doubles in the game. The Pirates had catcher Erik Kratz on the mound as their bullpen had been significantly depleted. This was actually Erik Kratz's SECOND pitching appearance of 2017 (Houston Astros in the Spring). After the Giants posted 15 runs off the Pirates staff, Kratz somehow boggled the heart of the Giants lineup. The worst? Belt's strikeout.
Belt even knew it. He swung and missed on a ball that was just screaming "BLAST ME TO THE ALLEGHENY." Instead, Belt whiffed hard. Later, MLB Gifs had some fun at his expense on twitter:
Belt really had no option but to laugh at himself a day later:
Embarassing? Yes. Funny? Ohhhh Yeah.