San Francisco Giants: Four Potential Free Agents to Avoid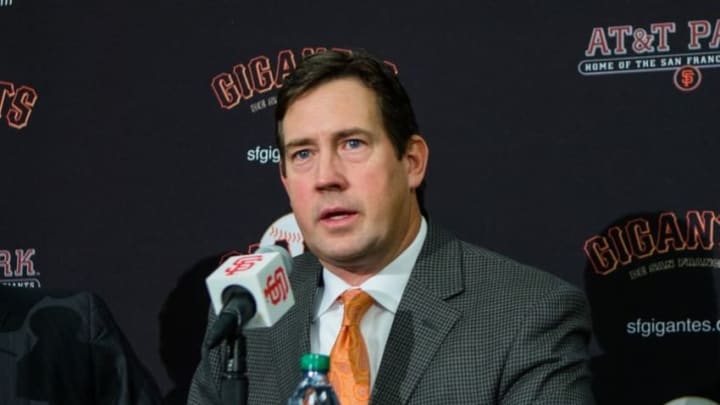 Dec 17, 2015; San Francisco, CA, USA; San Francisco Giants senior vice president and general manager Bobby Evans announces the signing of pitcher Johnny Cueto at a press conference at AT&T Park. Mandatory Credit: John Hefti-USA TODAY Sports /
Sep 20, 2016; New York City, NY, USA; New York Mets left fielder Yoenis Cespedes (52) strikes out to end the ninth inning against the Atlanta Braves at Citi Field. Mandatory Credit: Brad Penner-USA TODAY Sports /
Yoenis Cespedes
Before people jump to my throat here about not wanting Cespedes if he's available, this comes with a condition. That condition is that if Cespedes insists upon playing center-field, then the Giants should just say no. If Cespedes is willing to play left field and not make a stink about it, then the Giants should give it a shot.
I really like Cespedes. He's an entertaining player, he can hit for power, and that arm of his is an absolute cannon. He's a very good ballplayer. However, he just cannot play center field good enough. Throw him into Center Field at AT&T, and he just won't be able to play it correctly. He already takes weird and terrible routes to baseballs. Left field at AT&T is fairly straight away and should be easy enough for him to navigate.
Pagan's defense wasn't all that terrible this year in left. Despite his arm strength, Pagan did well and he produced at an OK level at the plate. Cespedes could probably provide Pagan level defense in left, while giving more production at the plate. If he was in center-field however, that would be a disaster.
My case? In his five seasons of big league baseball, Cespedes has 36 defensive runs saved as a left fielder, and -11 as a centerfielder. If that doesn't make the case then nothing will. Cespedes would totally be worth it if he was going to move to left field. If he didn't want to, then the Giants shouldn't even think twice about saying no.
Want your voice heard? Join the Around The Foghorn team!
Next: San Francisco Giants Season Grades: Management
Free agency dates will be announced once the postseason is over. Players are eligible to re-sign with their clubs once the World Series concludes.