San Francisco Giants: Four Potential Free Agents to Avoid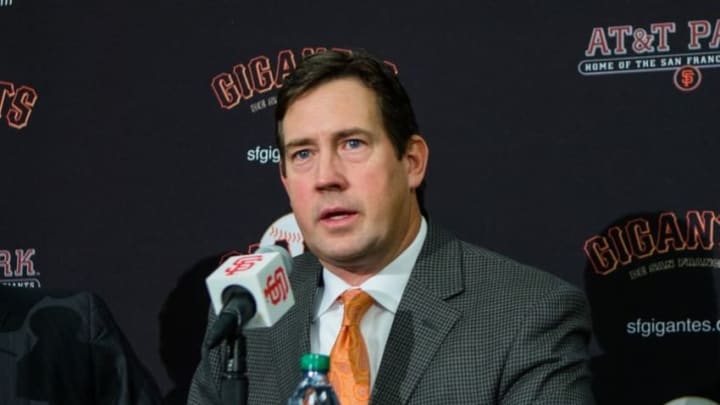 Dec 17, 2015; San Francisco, CA, USA; San Francisco Giants senior vice president and general manager Bobby Evans announces the signing of pitcher Johnny Cueto at a press conference at AT&T Park. Mandatory Credit: John Hefti-USA TODAY Sports /
Apr 24, 2016; Phoenix, AZ, USA; Pittsburgh Pirates pitcher Neftali Feliz against the Arizona Diamondbacks at Chase Field. Mandatory Credit: Mark J. Rebilas-USA TODAY Sports /
Neftali Feliz
Feliz has had a really interesting career. From Rookie of the Year in 2010, to struggling to get innings for the Rangers in 2014 and 2015. What's he got? Velocity, and lots of it. He started out throwing near 100, now he's down to 95mph. Five ticks is a lot in average velocity. What's he got? What every other pitcher has, Two Fastballs, a changeup and a slider. He throws a lot of them really hard. He also tends to get lit up, a lot.
In 53.2 innings he allowed 10HR, and 21 runs scored against him. IN PITTSBURGH! It's a pitcher friendly park! Fangraphs gives us cool stats like HR/FB ratio. It's pretty simple to understand. Out of all fly balls hit, what percentage end up being home-runs? In 2010 it was 6%, which is really good. In 2011, it was 5.3% percent, which is really good as well. In 2016, Neftali Feliz's  HR/FB ratio was at 19.2%. That's absolutely horrendous. Nearly 20% of the fly balls he gave up went for home-runs
Fangraphs also keeps track of a super cool stat called, FIP or Fielding Independent Pitching. This measures how good a pitcher is at doing what he has direct control over. It's based on an ERA type scale, so the lower it is, the better. Feliz's FIP in 2016 was 4.53. In fact, since 2011, in seasons where he pitches more than 30innings, Feliz hasn't had an FIP under 4.00.
Feliz is severely on the decline. Clearly, putting him in a pitcher friendly ballpark doesn't help. He's not going to magically get his crap together next season either, he is what he is now. The Giants should steer well clear of him when it comes to revamping the bullpen.